Adidas Nations Global: All-World Team
HOUSTON – The Adidas Nations Global event came to an end on Monday evening, as the Three Stripes brand assembled some of the very best talent that the college, high school and international platforms have to provide.
Eight prep teams were put together; four were comprised of domestic talent, while the others included solely players from outside of the United States. Jaelin Llewelyn and Matur Maker were each top standouts as they lead my All-World Team, a squad put together of a complete starting five along with three bench players.
STARTING FIVE
An All-World Team without Llewellyn would lack credibility. The Canadian earned major respect as he impressed all onlookers in Houston. The 6-foot-2 quick-twitch guard confounded his opponents with a blistering first step, an improved perimeter jumper and a shifty playing style that made him nearly impossible to contain. All together, Llewellyn had a tremendous week and was solid from start to finish. However, the highlight of the entire event was the Canadian tossing up 43 points off of just 17 shots. In one of the biggest recruiting steals in recent years, Llewellyn is headed to Princeton next year.
Mepandy surprised many in attendance with his excellent scoring skills, playmaking abilities and, for his primary purpose in this lineup, the ability to defend different positions. Mepandy does need to shoot it better as he made just seven of his 24 three-point tries. Running the show for his Team Africa unit, Mepandy's presence makes this unit one of the best rebounding squads around. He currently holds zero scholarship offers, but Mepandy's stock should soar as more coaches get a glimpse of him.
Brazdeikis is a straight bucket-getter and one of the very best scoring forwards that the high school ranks has seen in recent years. He can play the 2-through-4 on the offensive end, but much of the discussion about Brazeikis has centered on whether he will reclassify. Last month, the Canadian stated that he will remain in his original 2018 class and, with that now behind us, we can further appreciate just how good he has become. Brazdeikis is nearing five-star status and made his argument for that ranking even stronger in Houston where he averaged over 22 points, five rebounds and three assists. Vanderbilt and Michigan were the early leaders for Brazdeikis, but watch for more schools to get involved.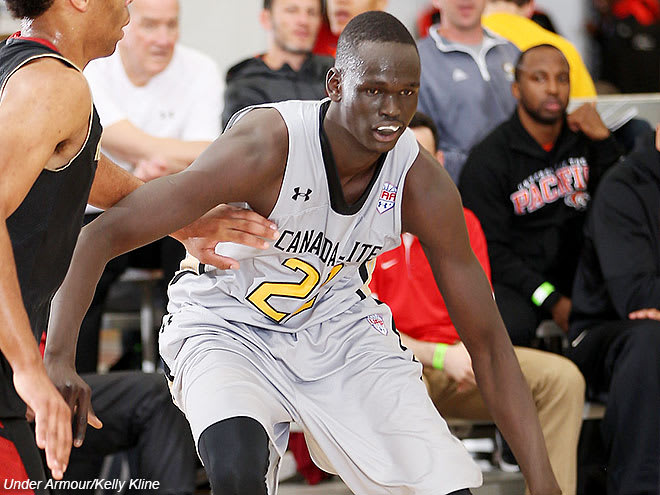 Maker, the younger brother of Milwaukee Bucks big man Thon Maker, more than held his own against the very best that he went up against in Houston. Just like his older sibling, Maker displayed a well-oiled motor and a ferocious playing style that made him one of the camp's top standouts. He does need to improve his perimeter shot as he made just five of his 21 attempts, but it was nice to see the 2018 forward take a leap with his game. Maker will return back to Canada for a year of prep; his college recruitment remains rather blurry.
Mensah hasn't always been given his proper dues but that has not hindered the way that he goes about playing the game. Sporting a great frame and a physical mentality, Mensah was again very solid and productive in Houston. While he does need to become more efficient scoring in the lane, the lefty knows what it takes to get things done. Mensah averaged slightly over 13 points and seven rebounds per game at the event. Several West Coast powers continue to pursue Mensah.
BENCH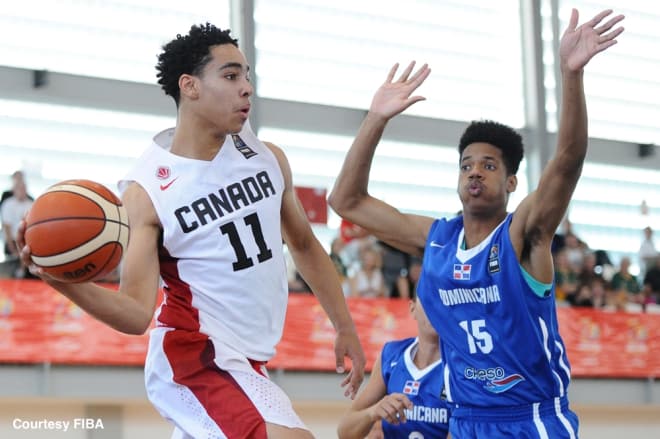 Nembhard is the best passer in high school basketball and an easy choice for the All-World Team. He has improved his jumper, making four of his 10 perimeter tries, but his outside shot remains a work in progress. However, I do not need Nembhard for his scoring but rather his facilitating and playmaking abilities. He finished top-three in assists and was no slouch on the defensive end, either. Nembhard recently reclassified into the 2018 class and could begin to take a harder look at his recruitment in the coming weeks.
Froling more than played his part during his time in Houston over the weekend. A 6-foot-10 center with deft touch in the lane, the low post scorer can convert over either shoulder. Froling made over 54-percent of his shots from the floor, averaging close to 12 points and five rebounds in less than 25 minutes' worth of action.
Stattmann is an absolute slinger. While he does need to get much stronger, more athletic and handle the ball better, the 6-foot-5 small forward can really shoot the basketball. He led the entire event in made 3s, knocking in 22 of his 51 perimeter attempts. He also showed quality rebounding know-how as he secured at least four rebounds in four of his games. Stattmann is a pure jump shooter that has heard overtures from several power conference programs. If he can sure up some of his deficiencies, Stattmann could have an opportunity to leave a lasting mark on a college program.