Adidas Nations Global: All-United States Team
HOUSTON – The Adidas Nations Global event came to an end on Monday evening, as the Three Stripes brand assembled some of the very best talent that the college, high school and international platforms have to provide.
Eight prep teams were put together; four were comprised of domestic talent, while the others included solely players from outside of the United States. No one had a more dominant showing than Zion Williamson, the second-ranked player in the 2018 class.
I've put together an All-United States team from the event, mixing and matching a roster of players that complement each other into a workable team.

RELATED: What we learned from Adidas Nation
STARTING FIVE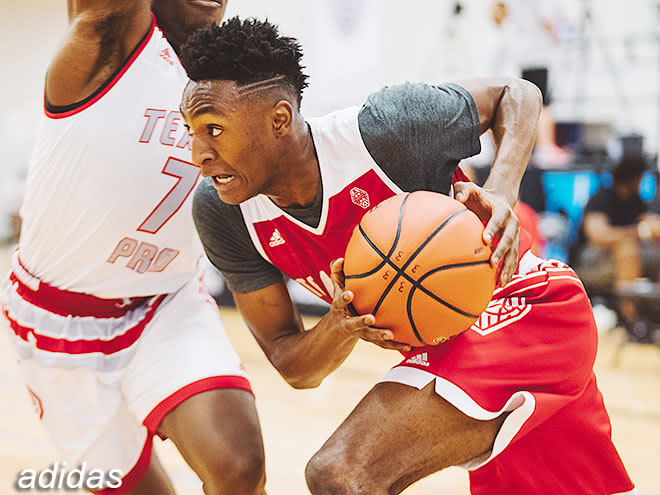 His numbers aren't going to jump off the page unlike the rest of his peers starting alongside him, but what we need at the point guard position is someone that will take care of the ball, defend and create for others. Quickley checks all of these boxes. The fact that he turned the ball over just three times in 157 minutes of action is an eye-opening accomplishment, for example. Quickley does have to become a more efficient scorer, as he made just 40 percent of his shots from the field, but the fact that he is all about the team and remains one of the most engaging and toughest on-ball defenders in America does not hurt his cause.
Cole Anthony was tremendous in Houston. The 6-foot-2 playmaker went right at his opposition, throwing down impressive dunks, showing off an improved perimeter jumper and remaining engaged and vocal as the leader of his team. It was also nice to see Anthony take care of the ball much better, as he sported a nearly 3-to-1 assist-to-turnover ratio. In total, he averaged 18 points, four rebounds and three assists per contest. Seeing that we have a tremendous table setter and defender in Quickley at the point guard spot, moving Anthony off the ball allows him to do what he does best: score. Though it is worth noting that Anthony has become a much better facilitator recently.
There has been a lot of skepticism about just how good a basketball player Zion Williamson is. Despite the scrutiny and attention that has been placed upon him, Williamson has been the model of consistency. The 6-foot-7 rising senior was top five in scoring while making over 64 percent of his shots from the field. In Houston, Williamson scored over 20 points in all but one of his games despite playing under 30 minutes in each of his outings. Where Williamson will attend college remains up in the air, but what isn't is just how dominant he is.
Reggie Perry made major news last month when he backed off of his original pledge to Arkansas before then announcing his college commitment to Mississippi State less than three weeks later. The Bulldogs enter the new college basketball season with the chance to take a giant leap within the SEC, but if they don't, Perry could be the catalyst of positive change. While he can at times attempt to be a super skilled wing-forward, whenever he is playing aggressive like he was in Houston, Perry is one of the scariest matchup issues around. He averaged a double-double throughout the week of action, posting an 11-point and 18-rebound game to finish off the camp.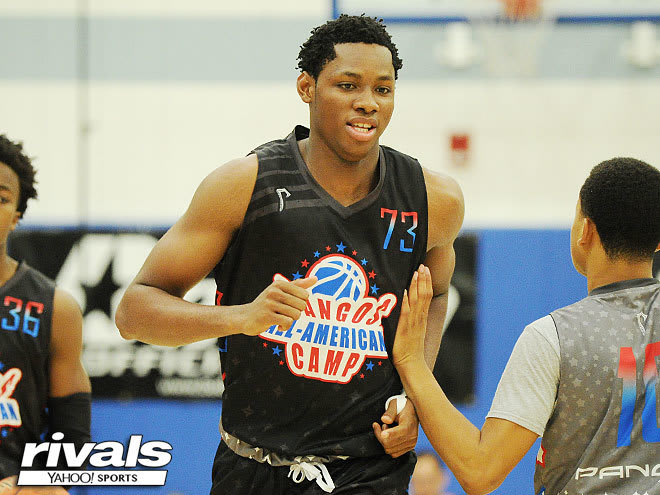 Pairing the top prospect in the 2019 class alongside fellow frontcourt pieces Zion Williamson and Reggie Perry allows each of the five-star seniors to roam around on the perimeter, creating even bigger mismatches. While Bassey's presence does diminish some of the potential driving lanes for the tandem, along with playmaking guard Immanuel Quickley, Bassey makes up for it with his rebounding and defensive potential. The five-star junior finished top-five in rebounding and also made a crazy 72 percent of his shots from the floor. He does not have much of a skillset outside of 10 feet, but Bassey's efficiency and blue-collar mentality goes right in line with the rest of his peers in the starting lineup.
BENCH
I need a major energy guy that can do all of the small things and is capable of more than defending just his position on the floor. Oscar Tshiebwe fits the mold, as the 6-foot-8 roaming forward can defend small forwards, power forwards and center, has an infectious playing style that reverberates throughout the rest of the floor and is a monster of a producer on the break. The Team Loaded product averaged close to 10 points and seven rebounds despite playing 22 minutes or more just once in Houston. He does need to refine his skillset, but his defensive buy-in, motor and explosiveness is more than welcomed on this team.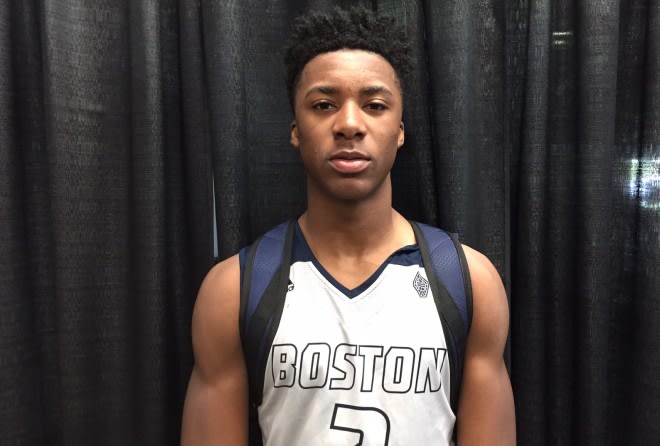 Scoring isn't going to be much of an issue with this unit, which is why I need someone that can guard and facilitate. David Duke falls right in line, and while his best basketball is still years away, he made his presence felt with just how strong of an on-ball defender he was. Seeing that he is now 6-foot-4 and has a set of long arms and quick feet, Duke was more than capable of holding his ground against all three perimeter positions. He also kicked in close to 10 points, four rebounds and three assists while converting on over half of his field goal tries.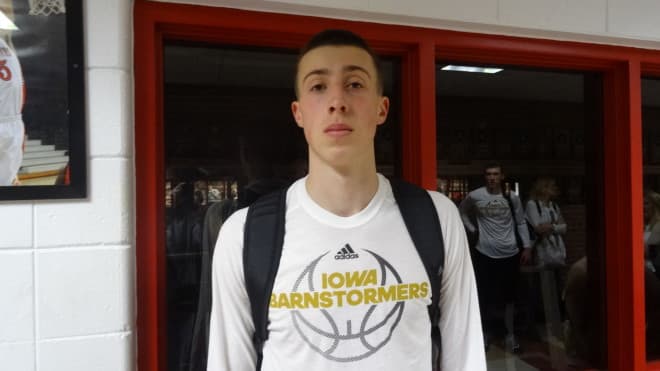 The last spot goes to a specific need, which is a premium shot maker that can handle the ball in spurts. Joey Weiskamp fits the mold, as the 6-foot-6 wing made half of his perimeter tries. He averaged a point every minute and a half that he was on the court. While he is not going to be distribute much and is more of a spot-up shooter that can nail the mid-range pull-up whenever the opportunity presents itself, Weiskamp displayed improved athleticism by way of a few surprising dunks throughout the weekend. Headed to Iowa next fall, the four-star wing has had a tremendous summer on the camp and travel circuit and is a deserving choice for the All-United States squad.