Adidas Gauntlet Finale: Eric Bossi's scouting notebook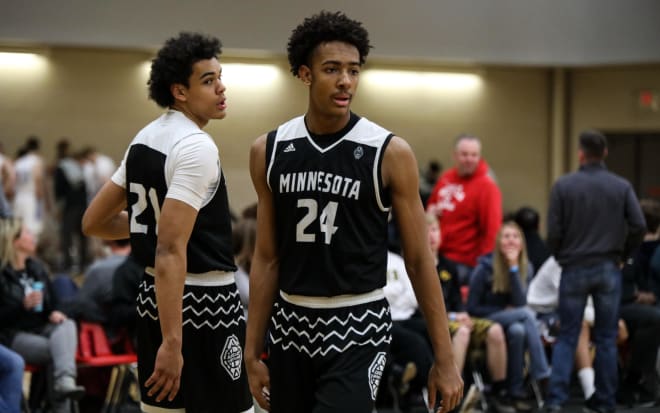 NEW YORK -- Top 35 rising senior Zeke Nnaji was just one of several standouts at the adidas Gauntlet Finale who had a big weekend. So, I'm opening up my scouting notebook to discuss some players who caught my eye that I didn't get to mention in either my Saturday takeaways or Sunday's live blog.
One of the best blends of skill, athleticism and upside as he continues to grow into his body, Nnaji was terrific each time I watched him. He runs the floor, gets good post position, finishes with soft touch and he can step out to the three-point line. He's a modern big man who can play the four or the five at a high level in college.
Arizona, Indiana, Minnesota, Xavier, Baylor, Oklahoma, Ohio State, Wisconsin, Northwestern, Purdue, UCLA and Creighton are among those to offer already and it wouldn't be a surprise to see blueblood involvement.

The way one college coach put it to me was a funny comparison, but it was pretty well put. He said kind of like dogs like to mark their territory, Tshiebwe goes out and marks his territory in the paint and then enforces it by any means necessary. He's physical, he's tough, he's quick and he's armed with strong hands that he uses to attack rebounds at their highest point. He's also a big-time one-on-one defender.
West Virginia, Kansas, Virginia, Georgetown, St. Joe's, Clemson, Penn State and Illinois are just some of the many chasing him.

Pound for pound, the Texas A&M commitment is as fast with the ball as any player in the country. That blazing speed and quickness allows him to get pretty much wherever he wants to go. His head is always up when dribbling and he's a very willing passer. He could maybe be a little more economical with the dribble at times but it's fun to watch the little man compete because he's got zero fear.


Stanford head coach Jerod Haase looked awfully pleased while watching his future point guard run the D1 Minnesota offense. If you want him to be a primary scorer, he can do that because of his deadeye jump shooting and clever driving to the rim. If you want him to just run a team, he does that very well thanks to alert passing and good decision-making. He needs some more strength, but he looks like he could start for multiple years in Palo Alto.


Watching Ledlum play, I couldn't help but think back to watching Miles Bridges play as a high school prospect. He's got a similar build, plays with a similar physicality and has a motor that just doesn't stop like Bridges did at the same age. He's not as big, nor is he quite as athletic as Bridges was but he's a bit better shooter and perhaps even more aggressive on offense. Ledlum is pushing for elevation to a four-star prospect after the summer ends.

Florida and TCU recently offered, Vanderbilt has offered, the Ivy League programs are all over him as are others like Penn State, Pitt, Wake Forest, Seton Hall and St. John's to name a few.

The ITPS Wildcats aren't all about Oscar Tshiebwe. they have a nice well-rounded group and Austin's ability to serve as a rangy playmaker and dangerous shooter was key. He has good size, is pretty fundamentally sound and has really beefed up his off-the-dribble game over the last year. Northwestern offered based on his play in New York.

One of the smoothest scorers in the class of 2020, Beauchamp has always had a high skill level and the size that you would want to see out of a high level wing prospect. However, he hasn't always been overly aggressive and thus a bit inconsistent. Beauchamp looked very aggressive in New York and the real wrinkle was how much more he was handling the ball and making plays for others even if it wasn't reflected with huge assist numbers. There's undoubtedly going to be a major Pac-12 battle brewing here.

I got to see a little bit of Frank at the recent Nike Elite 100 but there are so many players at an event like that, it is hard to get a good look at everybody. On Sunday I was able to focus in on Frank a little bit and I loved his aggressive nature and how relentless he was in attacking on the offensive end and the work he did on the glass. He's certainly an intriguing option as a combo forward from the class of 2020.

Originally a class of 2019 prospect, Blake has decided to move from Las Vegas to Los Angeles and take a prep school year. It should pay dividends. He's already started to add strength to his previously lean frame and he's gotten more explosive athletically. Blake puts the ball on the floor a bit, is a confident scorer and is somebody that will have to get considered for the national rankings in 2020.

Team Loaded Virginia's 15U team is pretty stacked and is currently undefeated for the spring and summer, Reid is a big part of it. He's already got tremendous size for a young big man, can run the floor, showed good hands, was a force on the glass and his offense is already nicely developed from eight feet and in. Obviously a lot will change between now and when he graduates in the spring of 2021 but there's no reason he shouldn't already be on high major radars.

This young man hasn't even started high school yet, but I was pretty impressed watching Wright as he played for the Compton Magic in the finals of the 15U game. He and the Magic didn't have near the size of Team Loaded VA, but Wright got into the mix and battled with opposing bigs that he was giving up three or four inches to. For any age of high schooler, he's already athletic, he has a motor and seems to have a nose for the ball. He will be one to watch closely over the next few years.