Adidas Gauntlet: Charles Bassey compares with Dwight Howard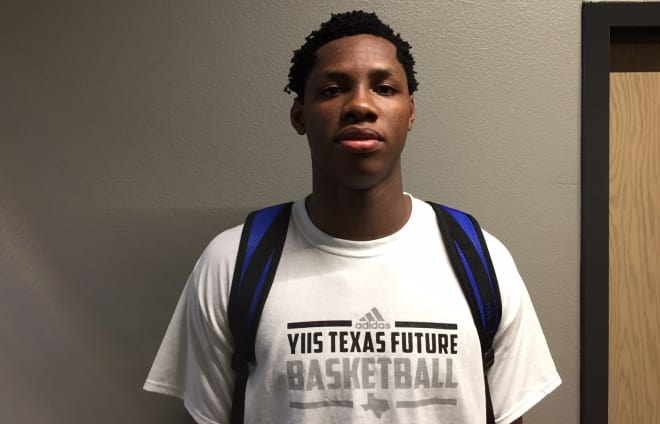 BASSEY STIRS UP MEMORIES OF A YOUNG DWIGHT HOWARD
Fifteen years ago, I walked into a gym on the campus of Georgia Tech and got my first glimpse of future NBA All-Star Dwight Howard. Seeing the No. 2 player in the class of 2019 Charles Bassey perform throughout the weekend at the first stop of the Adidas Gauntlet, it was hard not to be reminded of seeing Howard at the exact same stage of his career.
Does it mean that Bassey will eventually go on to make eight NBA All-Star games and win three NBA Defensive Player of the Year awards? No, that's expecting too much. But, after capping off a weekend in which he averaged a double-double with a 23-point and seven-rebound performance for Yes II Success Texas Future, Bassey certainly stirs up comparisons with Howard.
"It was good competition and I think we played well as a team," Bassey told Rivals.com. "I've been improving on my post moves and my shooting ability, and I've just got to get better every day. I'm just going to the gym every day and working."
Baylor, Kansas, Texas A&M, Oklahoma, Western Kentucky and several others have offered while Kentucky and Arizona are keeping close tabs. He had head coaches from all of those programs and more watch throughout the weekend, but remains focused on the task at hand.
"I'm not feeling any pressure," he said. "I've just got to play my game and do what I do every time."
Though his commitment would certainly be welcomed by any of the schools on his list, Bassey says that there is no hurry to get anything done.

"We are just going to take time," Bassey said. "There is no rush to commit to a school. Right now I'm just focused on the game and when it's time to commit I'll deal with that and commit."

R.J. HAMPTON EMERGING AS AN ELITE PROSPECT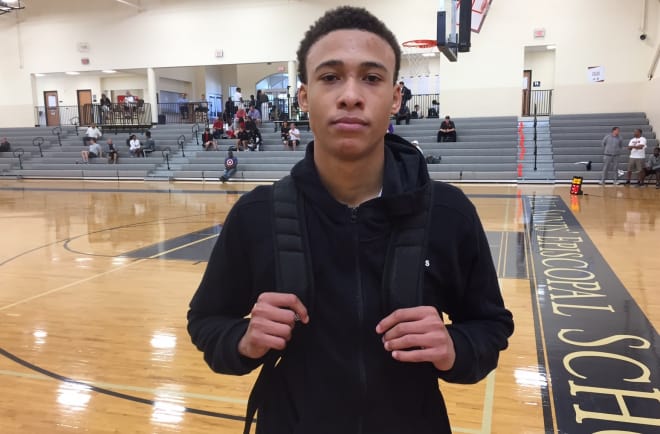 Just finishing up his freshman year at Little Elm (Texas) High, 6-foot-4 point guard R.J. Hampton put on quite the show Sunday while playing for Texas B.U. Nation in the 16U division.
Skilled with a high-level feel for the game, Hampton showed off deft touch as a passer, a high basketball IQ and the ability to get a bucket. With that type of skill along with above average size and athleticism, he's easy to project as an elite prospect. At this point he's putting himself in position to begin his career as a five-star prospect when the class of 2020 gets ranked for the first time after the summer.
Oklahoma State, Texas A&M, SMU (where his father Rod Hampton played), Texas Tech and TCU have already offered and more will be on the way soon.
"There's no feeling that I've already made it," Hampton said. "There's just hunger to keep pushing. My dad was similar in high school so he's taught me how to handle the pressure and use it toward positive energy. That's all I do, just work hard and keep playing."
Though he has high-major offers on the table and has already toured Baylor, SMU and TCU, Hampton isn't looking to make the process a quick one.
"It's too early to even know what I want to do," he said. "When the offers keep coming and hopefully start to pile up, my dad is going to teach me well what to do because he has been through it before.

SUNDAY RECRUITING NEWS AND NOTES
There is still plenty of time between now and when the class of 2020 will first get ranked after the summer, but Isaiah Todd is already on the short list of players who are likely to get consideration for the top spot. On Sunday morning Todd drew a crowd that included North Carolina coach Roy Williams and assistants from Clemson, Wake Forest, Virginia Tech and Ole Miss. Highly skilled with post game and the ability to make mid-range shots, Todd already has offers from Baylor, Kansas, Maryland, Virginia, Wake Forest and several others.

Featuring a total of five players committed to Arkansas – four from 2018 and one from 2019 – the Arkansas Hawks have been dubbed the Hog five. Overall, though, it was a little bit of a disappointing weekend for them as they went 1-3 overall.
A bright spot was their highest-ranked player, Reggie Perry. The power forward finished his weekend with 19 points and five rebounds, and averaged 18.3 and nine through four games. A good athlete with strength and toughness, he sometimes settled too easily for jumpers but he has the tools and strength to come in and be an immediate contributor in the SEC.

Sophomore center Malcolm Wilson of the Upward Stars 16U team picked a great game to be a shot-blocking machine. Matched up with Isaiah Todd's Team Loaded VA 16U squad, Wilson blocked one shot after another at the rim. Most impressively, he did so without fouling or losing control.

The thin and athletic big man runs well but is still raw offensively. One of the Stars coaches told Rivals.com that Wilson has only been playing competitive basketball since the eighth grade so there's a lot of upside there. A 4.0 student, Wilson's first two offers have come from Hampton and South Carolina State, but Georgia Tech, Clemson, Virginia and South Carolina have shown early interest.

The Compton Magic's 16U team features three impressive prospects from the class of 2020.
Wing Johnny Juzang is a plus athlete whose more impressive because of his size, strength and skill. He doesn't get sped up and is already a confident jump shooter and driver.
Another wing, 6-foot-4 Jaylen Clark is all about getting to the rim. He's a transition finisher, plays with toughness and has the tools to be a high-end defender.
Last but not least, 6-foot-9 big man Evan Mobley oozes potential. Rail thin at this point, he's all arms and legs but shows touch as a shooter, the ability to score in the post and he runs very well. The younger brother of class of 2019 four-star Isaiah Mobley, he appears to be on the same trajectory and already has offers from Alabama, San Diego State, UCLA and USC.

A physically tough and very skilled wing, sophomore Ronnie Degray nearly willed Chauncey Billups Elite to a win over the Compton Magic 16's.
Degray shot the ball well from deep, he did most of the ball-handling, he was tough on the glass and he got out in transition. Maybe most impressive was his feel for the game and how well he set up teammates for easy baskets via crisp passing.
Degray's first and only offer at this point is from Denver while Nebraska and Colorado have shown some initial interest.