No. 2 and No. 3 Zion Williamson and Romeo Langford duel at adidas Gauntlet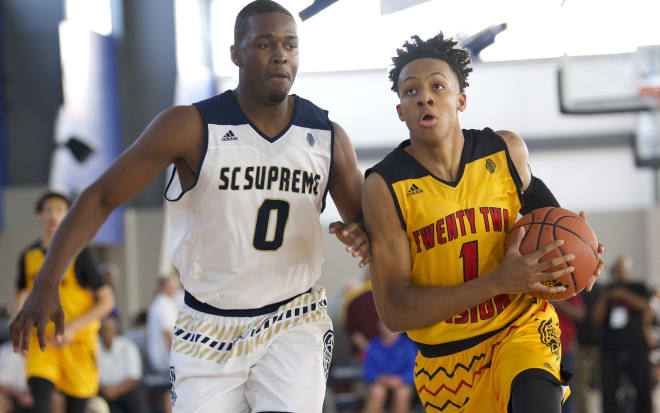 FORT WORTH, Texas -- Adidas put its best foot forward on the first night of April's two evaluation periods matching up 2018's No. 2 player Zion Williamson of SC Supreme with the No. 3 player in the class Romeo Langford of Twenty Two Vision. The duo didn't disappoint a crowd that lined up outside of the Game On Sports venue an hour and a half before tip-off.

NO. 3 ROMEO LANGFORD SCORES WIN IN DUEL WITH NO. 2 ZION WILLIAMSON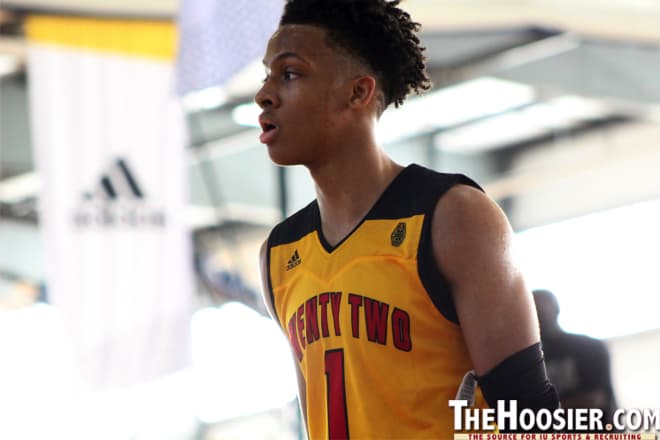 In the world of grassroots basketball the matchups don't get much bigger and better than the battle between 2018's No. 2 and No. 3 players Zion Williamson of South Carolina Supreme and Romeo Langford of Twenty Two Vision.
For their part, the two highly ranked players didn't disappoint as Langford went off for 28 points, four rebounds and four assists in a win over Williamson who had 26 points and seven rebounds of his own.
The coaching power lined up to watch matched the starpower on the court. Duke's Mike Krzyzewski, Kansas' Bill Self, Indiana's Archie Miller, South Carolina's Frank Martin, Arkansas' Mike Anderson plus assistants from Kentucky, Clemson,Vanderbilt, North Carolina, Louisville and several other programs were in attendance.
A 6-foot-4 shooting guard, Langford hosted Kentucky for an in home visit last week while Williamson, a powerful 6-foot-6 wing, has had Duke, Clemson, South Carolina, Kansas and North Carolina in over the last week.
Williamson said that he's in no rush to set a list and he's very aware of the decision he'll have to face about staying home to play for one of the local schools like Clemson or South Carolina and be a hero versus going to a traditional power like Duke, Kentucky, North Carolina or Kansas. However, he was mostly focused on the game.

"The atmosphere was second to none," said Williamson after the game. "We are a new team so it's all about building team chemistry. It's always good playing against one of my good friends like (Langford).
"When I was young I was told this was going to come with the life I chose, so I'm just enjoying the process."
For his part, Langford touched on the Kentucky in home and where he is in the process.

"It went really well (with Kentucky)," said Langford. "Coach (John) Calipari and assistant coach (Kenny) Payne came down to my house and they were just talking about how they would help me out in the long run.
"The first thing I look at when it comes to the schools is the education aspect. Then I look at if I can trust them and if my family can trust them and how they will treat me."
From the outside looking in, neither of these guys appears to be in any kind of hurry to make a decision but when it comes to delivering for the crowd an backing up the hype they were both on point.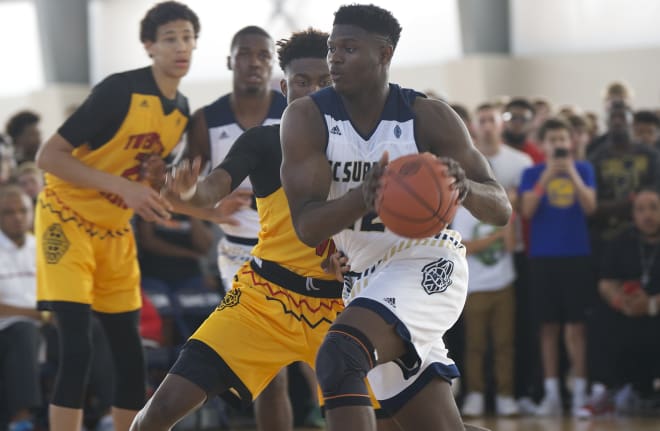 IMMANUEL QUICKLEY GETS WIN IN FIVE-STAR GUARD BATTLE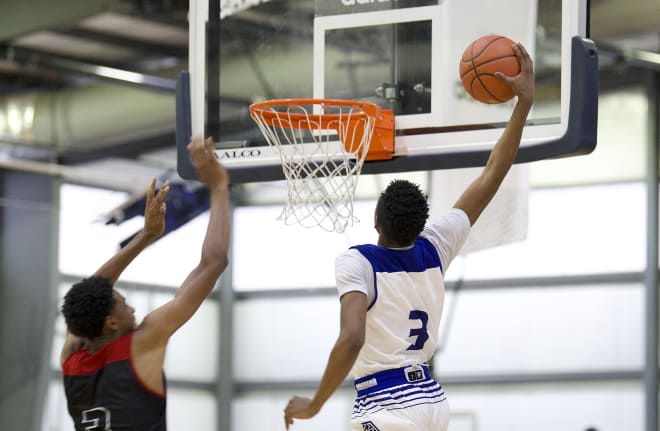 Earlier this week, combo guard Quentin Grimes from Houston moved ahead of point guard Immanuel Quickley in the 2018 Rivals150. There's no way to know if the slightest of rankings slides provided a little extra motivation for Quickley, but the No. 15 player in the class of 2018 went for 22 points, five rebounds and three steals while Grimes -- who ranks No. 12 in 2018 -- struggled to find his shot in a six point, six rebound and three assist night.
Most importantly to Quickely, his Team BBC squad scored a 69-54 win over Grimes' Basketball University team.
Down to a final seven of Duke, Kansas, Kentucky, Maryland, Miami, Providence and Virginia, Quickley hosted Kansas, Kentucky, Maryland and Miami for recent in home visits. He also said that he's got to figure out the next step in his recruitment.

"Whenever it feels right for me," said Quickley of when he will cut things down. "I'm going to pray and talk to my family. Whenever those things come together is when I'm going to do something. I don't think distance is going to matter, it's about the right fit."

Among those in the crowd for the game were head coaches from Duke, Kansas, Texas A&M, LSU, Texas, Marquette and California along with assistants from Baylor, Connecticut, Oklahoma, Xavier, Kentucky, Miami, Maryland and Wake Forest among others.

FRIDAY NIGHT RECRUITING NOTES
Recruitment: Listed offers from Virginia Tech, UCF, Rutgers, West Virginia and UAB among others.

His day: With 23 hard nosed points and six rebounds, Mathis stole the show in the highly anticipated matchup between Quickley and Grimes. He loves to play physical and is a finisher at the rim.

Quote: "Rutgers is standing out some and they keep it 100 percent with me. We just had an in home visit with them and they ended up staying for three hours because it was going so well.

Prediction: Mathis was pretty clear that he likes what Rutgers is selling and they tried hard to get a commitment from him before he hit the travel circuit. At a minimum, they've set a bar for others to reach.

Recruitment: Offers from Alabama, Arizona State, UNLV, USC, UCLA and others.

His day: For his Compton Magic team to win against a big, athletic and talented Game Elite 2019 squad, Okongwu had to play up to his ranking and that he did. He was all over the glass, ran the floor and protected the rim at a high level in a 15 point, 13 rebound and three block evening.

Quote: "USC is on me really hard. They are always coming to watch me play and I talk to them at least once a week. I appreciate how hard they are recruiting me."

Prediction: Though he says USC is working the hardest, Okongwu is in no rush. The Trojans are going to at least make others work if they want to beat them.

FINAL FRIDAY NOTES
... If you throw a basketball at a team huddle for Georgia based Game Elite 2019 you are likely to hit a high-major target. On a team loaded with talent, it was point guard Ashton Hagans who stood out. Currently ranked No. 32 overall in 2019, Hagans showed tremendous toughness, physicality and playmaking tools. With 6-foot-3 size he's got a chance to push for five-star status and with offers from the likes of Mississippi State, LSU, Texas A&M, Auburn, Georgia, Florida State, Georgia Tech, Wake Forest and Florida he's going to end up a major priority recruit from the Southeast.
... Only a freshman, 6-foot-8 forward Greg Brown of Basketball University looked very comfortable playing on the 17U level. He played above the rim, hit a three and was quite productive with 15 points an 12 rebounds. California, Texas A&M and Oklahoma have already offered.
... An early candidate for a breakout summer is 6-foot-5 wing Kaden Archie of Urban DFW. He's got size, he's got athleticism and he can score the ball at all three levels. Tulsa is his most recent offer and he looks like he's worthy of many more AAC offers and should emerge as a Big 12 and SEC target.
* Finally, top 40 in 2018 scorer Luguentz Dort looks an awful lot like a young Rawle Alkins. He's strong, physical, athletic and loves to attack the rim. Florida, St. John's, Baylor and Oregon are among his early offers and word is the Gators could be in good position.