Class of 2018 four-star Swider hitting his stride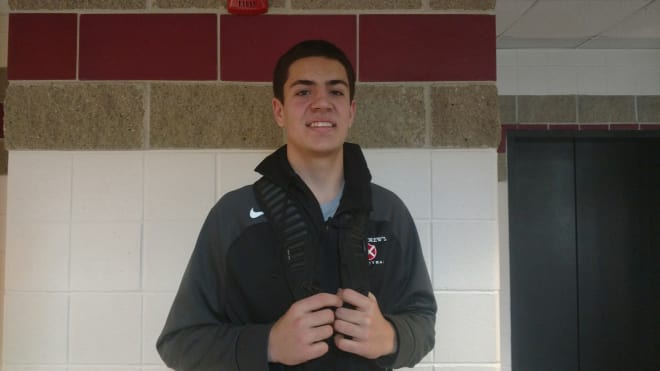 Finding capable shot-makers with good size has remained a necessity for some of the top college basketball programs nationally. Cole Swider, a 6-foot-6 small forward out of Providence, R.I., has continued to cement his legitimacy while rounding out his overall skillset this winter at St. Andrew's School.
Swider, who brings ideal size to the small forward position sits firmly as a four-star prospect in the 2018 class. Due to his shot-making skills out to 20 feet, toughness and his will to win, a bevy of college programs have begun to show priority attention to the Providence native. Creighton, Xavier, Providence and Villanova are just a few of the schools that would love to one day showcase the abilities of Swider's within their own system.
MORE: Making the case: Brian Bowen | Four-star Quentin Grimes update
IN HIS OWN WORDS
Primarily known as a knockdown shooter, the top-150 junior has shown progress in other parts of his game.
"(Areas of improvement include) my ball handling and separation skills, my defense, just trying to work on my entire game and getting rid of the label of being just a shooter," he said.
"(My strengths are) definitely shooting the basketball; I am getting into the lane a lot better and playing hard all the time."

Thanks to the strides that Swider has made in his game to go along with his already dominant shooting skills, numerous top flight programs have shown major attention early on. The 6-foot-6 small forward, who currently holds 16 offers, recently visited Providence for their game against Villanova. He already has been to Xavier, Creighton, Butler, Villanova and Boston College.
Xavier: "I like them a lot; with Trevon Bluiett and J.P. Macura graduating my year, I can come in and play right away and get to the next level."
Creighton: "They think I can come in and play right away seeing that I fit their system so well. Cole Huff is graduating this year so I could come in right into that role."
Villanova: "I like them a lot. They just win and get the job done. I shoot the ball very well, so they think that I fit their system."
Providence: It's close to home and they think that I can be a day one contributor. Rhode Island is my place, so I just have to keep them under consideration."
WHAT'S NEXT
Swider, who plans to run on the Nike EYBL circuit this spring and summer with the BABC travel program, has a plan in place leading to a college decision.
"I am going to talk to my parents about this, but I think I am going to narrow things down after the first live period and then release my list," Swider said.
"I just want to go somewhere that I can play right away, that I can feel comfortable and my family can feel comfortable and a place that is going to get me to the next level."
RIVALS REACTION
Players who can shoot the ball with consistency and bring good size to the perimeter have remained at a premium within higher levels of basketball. Swider fits the mold perfectly, hence his four-star status and a recruitment that has already seen higher levels of attention thrown his way. Do not expect any of this to change whatsoever, as a majority of the Big East has zeroed in on the Providence native this winter.