Quentin Grimes seeing interest from Duke, Kentucky and more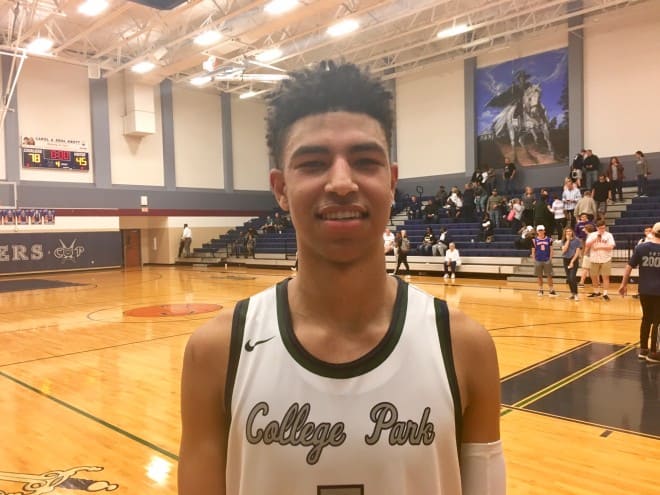 THE WOODLANDS, Texas - Combo guard Quentin Grimes showed why he's ranked No. 24 in the 2018 Rivals150 Tuesday night. The 6-foot-4, 180-pound prospect finished with 32 points and 10 rebounds in a 78-45 win against Lufkin High School. With Duke assistant coach Jon Scheyer in the stands, Grimes finished in the lane with ease and played well on the defensive side, adding three blocks to his stat line. Duke has yet to offer, but the Blue Devils have been down twice this season to check in on Grimes.
IN HIS OWN WORDS
During the late summer and into the fall, Grimes took a few unofficial visits to start weighing his options. He stopped by Oklahoma, Kentucky, Texas A&M, Texas and Arizona. Following his high school season, Grimes plans on getting out to visit Kansas, Duke and Baylor.
Oklahoma: "I've been to their campus twice and I'm watching them closely this year. I know they had a tough loss this week but coach (Lon) Kruger is a great coach and I'm definitely trying to get back there for a visit this spring or summer."
Kentucky: "The visit was really good. I got to sit down with coach Cal (John Calipari) and coach (Kenny) Payne and talk to them a little bit about their program. I know De'Aaron Fox really well, we're good friends and talk all the time. It's nice to have a big brother type out there to tell me what's going on and answer questions. Kentucky hasn't offered yet but they are showing interest, yes."
Texas A&M: "I've known coach Ulric (Maligi) since eighth grade and I've built a really good relationship there. The visit up to A&M was great this fall. It's always nice to see the different campuses and what every school is about and I'm already so comfortable with the coaching staff there."
Arizona: "I went out for the Red and Blue game and that was a good experience for me. I got to sit down with coach (Mark) Phelps and coach (Sean) Miller and talk a little bit more about how I would fit in with the team."
Texas: "Coach (Shaka) Smart, he's been to a lot of my games so far this year and a couple other coaches have been at practices so they're really making me a priority. I've been on their campus but I'm hoping to try to get to a game at some point."
Kansas: "Coach (Jerrance) Howard and coach (Bill) Self just want me to come in there as an instant impact guard. KU is very guard-focused in the way they run their offense and that's definitely the playing style I want at the next level."
Duke: "Coach (Jon) Scheyer wants me to come up for a visit and come to a game. And I know coach K (Mike Krzyzewski) really wants me to come up there and meet the rest of the coaches and see the campus and all that. I just need to work out the timing but we're definitely planning on getting up there at some point."
Baylor: "They've been at a few games this year, too. Coach (Scott) Drew's been at practice a couple times and so has coach (Alvin) Brooks. Baylor's been playing well this season, I mean really well, so I just want to get up there and check it out a little more."
WHAT'S NEXT?  
Grimes has a deep list of schools showing heavy interest and he's taking his time looking at each option. He wants to play at a guard-heavy program with an up-tempo offense and has been watching the Pac-12, Big 12 and ACC closely this season. Expect Grimes to take more visits heading into his AAU season with Basketball University on the Adidas Circuit.
RIVALS' REACTION
After seeing him play, I don't see the offers slowing down any time soon. With a couple blueblood programs in the wing, his recruitment could start to gain speed in the coming months. Grimes is taking his time with the recruiting process and I see this going to at least the start of his senior year.