2017 NBA Mock Draft: How Rivals ranked top prospects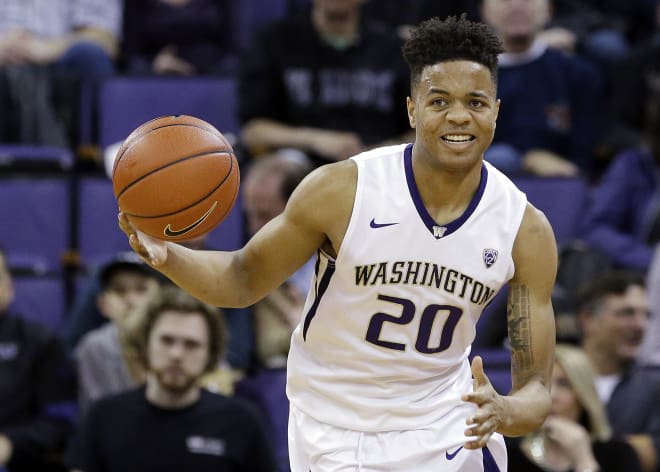 The NBA Draft takes place Thursday night, and as is tradition, it's likely that recruiting rankings of draftees will get called into question or celebrated.
Using Draft Express' mock draft as a baseline, Rivals.com evaluated 27 of the 30 projected first-round picks as high school players. 18 five-star prospects, six four-stars and three non-ranked three-stars are in that group.
So, who were the hits and who were the misses?
MORE: Best big men in the 2017 NBA Draft | Who should go No. 1?
1. Philadelphia 76ers
In high school: A true late-bloomer who didn't play varsity until his junior year, Fultz rocketed into the national top five in 2016. Washington was in way ahead of the pack to get things done.
Hit or miss: Hit. Maybe we could have ranked him slightly higher, but the 2016 class was loaded.
2. Los Angeles Lakers
In high school: The fourth-ranked player in 2016, Ball was a game-changing passer. UCLA was wise to lock him up very early in the process.
Hit or miss: Hit. So far, Ball has been everything he's ever been advertised to be.
3. Boston Celtics
In high school: It's not often you see high school players with as much polish and maturity on and off the floor. He took some time with it, but seemed to be a lock for Duke for most of his career.
Hit or miss: Hit. Duke has a nice string of players with Tatum, Brandon Ingram, Justise Winslow and Jabari Parker going in the lottery over the last four years.
4. Phoenix Suns
In high school: Save for about a six-month stretch of his junior season, Jackson was always our top-ranked player because of his versatility and killer competitive spirit. Kansas was somewhat of a surprise pick after a lengthy recruitment.
Hit or miss: Hit. Even though he won't be taken first, nobody would dispute Jackson has backed up his lofty ranking.
5. Sacramento Kings
In high school: All that kept Fox out of the top five in high school was 2016 being such a great class. His game-changing speed made him tough to check, and Kentucky emerged as the team to beat once they locked in on him the summer before his senior year.
Hit or miss: Hit. Another who has backed up the hype, Fox's speed has NBA teams starry-eyed over landing him.
6. Orlando Magic
In high school: Another who was a late bloomer, Isaac kept getting better, bigger and more athletic through high school. Florida State came very close to landing him early and then fought off some bluebloods.
Hit or miss: Hit. Isaac continues to entice because of his size and shooting.
7. Minnesota Timberwolves
In high school: Though he was an International player, we did get to evaluate Markkanen some. We loved his size but worried he might be a little bit stiff and slow.
Hit or miss: Miss. Film didn't relay just how big Markkanen really is, and we underrated his shooting ability. He should have been a five-star.
8. New York Knicks
In high school: There were never any questions about Monk's athleticism and jump shot. But he was slightly small for an elite two guard, and there were some questions about his competitiveness. He broke Arkansas fans' hearts when he picked Kentucky.
Hit or miss: Hit. Monk proved that his explosive scoring translated to college and he can be a floor spacer in the NBA.
9. Dallas Mavericks
In high school: Because he enrolled early, Smith moved out of the class of 2016 and ended up a non ranked five-star in 2015. Had he stayed 2016, he would have pushed for the national top five. N.C. State was always the favorite to keep him home.
Hit or miss: Hit. Smith's effort level can come and go, but he's a monster athlete and explosive floor general.
10. Sacramento Kings
In high school: Those close to Collins at Bishop Gorman High School in Las Vegas always suggested he could be better than five-star big men Stephen Zimmerman and Chase Jeter, who were a year ahead of him. Turns out they were right and Gonzaga landed a stud that probably left quicker than it ever thought he would.
Hit or miss: Hit. Ideally, we would have had him ranked a little higher, but top-20 range is close enough to still consider him a hit.
11. Charlotte Hornets
In high school: Known for his toughness and athleticism, Mitchell just missed making five-star status in 2015. Once Louisville got involved, they had him on campus and landed him quickly.
Hit or miss: Miss. He goes down as a miss, but only a slight one. But given that he may be a lottery pick after two years, we would have looked better had we had him ranked just a little higher than No. 31 overall.
12. Detroit Pistons
In high school: Kennard was one of the most polished and skilled players in the class of 2015. A McDonald's All-American, he picked Duke over Kentucky in a tight race.
Hit or miss: Hit. Kennard was on the back end of the five-star range, but we'll consider a five-star going in the first round a hit any day of the week.
13. Denver Nuggets
In high school: Collins was a good scorer with a great motor and Wake Forest worked him hard using Danny Manning's big man coaching and early playing time as a sell.
Hit or miss: Miss. This one was a major whiff by us, pure and simple.
14. Miami Heat
In high school: When Jackson gets drafted, it will mean that 12 of the top 13 ranked players from the class of 2014 have been taken as first-rounders. Carolina was always a natural fit for him.
Hit or miss: Hit. Jackson won a title, was a big-time player in college and will be a first-round draft pick. Perfect production for a player ranked where he was.
15. Portland Trail Blazers - Frank Ntilikina, International  
Rivals did not evaluate this player.
16. Chicago Bulls
In high school: A top-15 player in the class of 2016, Allen sometimes teased with jaw-dropping athleticism and skill before frustrating with inconsistency. Texas was the hometown program and they narrowly edged out Houston in a drawn out battle.
Hit or miss: Hit. Allen has proven to be exactly what he was billed to be.
17. Milwaukee Bucks
In high school: When Patton committed to hometown Creighton in the summer before his senior year, even the locals wondered if he was good enough. Thanks to a big summer before his senior year and promising last year of high school, he was a top-50 player in 2015.
Hit or miss: Miss. It's a miss, but not by much. How often do you see seven-footers redshirt (by choice) and then get drafted so highly? It will go down as a miss, but No. 45 coming out of high school was a respectable ranking.
18. Indiana Pacers
In high school: For the longest time, it looked like Adebayo would be a package deal with Dennis Smith. But John Calipari penetrated Bam's inner circle and lured him out of state.
Hit or miss: Hit. Adebayo is strong, rugged and will play a long time in the NBA.
19. Atlanta Hawks
In high school: One of the youngest players in the draft, Anigbogu always impressed as an athlete and shot blocker. Despite a raw offensive game, we saw enough to rank him a five-star, and he didn't surprise anybody picking UCLA.
Hit or miss: Hit. We're sure that the Bruins wish he was around another year, but it was best for him to leave before his lack of offense gets picked apart.
20. Portland Trail Blazers
In high school: Anunoby was a great athlete in high school but seemed to be more of an undersized four man than a true small forward. Indiana coveted his defensive versatility and won out.
Hit or miss: Miss. The last time Rivals.com saw Anunoby was late in his senior year of high school, and he was unremarkable against an unremarkable high school team. No excuse, though, we blew it not making him at least a top-150 player in the class of 2015.
21. Oklahoma City Thunder
In high school: Before deciding to stay home and play at UCLA, Leaf was actually committed to Arizona for a while. He had a nice blend of skill and athleticism that earned him a No. 16 national ranking.
Hit or miss: Hit. We thought Leaf would be an impact player at UCLA with a chance to be one-and-done.
22. Brooklyn Nets
In high school: A faceup four man who could really shoot, Wilson was lacking in strength and consistency but showed enough promise for a No. 86 ranking in 2014.
Hit or miss: Miss. Up until the last half of the 2016-17 season, we thought we'd nailed it on Wilson's ranking. Then he took off. It was a miss, but not a terrible one.
23. Toronto Raptors
In high school: With his three-point shooting ability, athleticism and ability as a help-side shot blocker, Lydon seemed like a perfect fit for Syracuse.
Hit or miss: Miss. A little low in the final rankings at No. 64 overall, but Rivals.com did rank Lydon the highest of any scouting service.
24. Utah Jazz
In high school: Ojeleye never really seemed to find his groove during a little over a season at Duke. But after sitting out and working on his craft, he turned into a star at SMU.
Hit or miss: Hit. Ojeleye just missed five-star status, but No. 31 for a final ranking in 2013 looks pretty accurate four years later.
25. Orlando Magic - Anzejs Pasecniks, International  
Rivals did not evaluate this player.

26. Portland Trail Blazers
In high school: Duke was always the prohibitive favorite to land the North Carolina product. When he was healthy, his versatility and length made him a load.
Hit or miss: Miss. Basically, we ranked Giles No. 2 off of a healthy junior season. Looking back, the 2016 class was too loaded to leave him ranked so highly with all of his injury question marks.
27. Los Angeles Lakers - Derrick White, Colorado
In high school: A total unknown in high school, White was a six-foot shooting guard who received only a $3,000 housing voucher to attend D2 University of Colorado-Colorado Springs. He hit a growth spurt, became an All-American and transferred to Colorado.
Hit or miss: Miss. Everybody missed on White, and there's no way anybody could have possibly seen this coming for him. It's the stuff Hollywood movies are made of.
28. Los Angeles Lakers
In high school: We didn't really start to get a true feel for Kuzma until late in his high school career. He struck us as a late-blooming four man with some perimeter skill, good athleticism and the ability to go and get the ball off the glass. Utah got him after a big summer and convinced him to skip out on a prep school year to enroll.
Hit or miss. Miss. Had Kuzma gone through with the prep school year he would have been ranked in the Rivals150 and possibly even as high as a four-star. However, because of his decision to enroll for the 2013-14 season at Utah he never made it into the rankings.
29. San Antonio Spurs
In high school: A big-time jump shooter who was an even more big-time athlete, Ferguson first committed to Alabama. After backing out on the Crimson Tide and picking Arizona, he decided to head overseas to Australia.
Hit or miss: Hit. The reviews were hit and miss from Australia, but we'll consider a top-15 prospect going in the first round a year after high school graduation a hit.
30. Utah Jazz
In high school: A top-10 prospect in the class of 2015, Rabb ultimately decided to stay home and attend Cal over playing for Pac-12 rival Arizona. He was a terrific rebounder who showed promise as a scorer.
Hit or miss: Miss. Had Rabb left after his freshman year he likely would have been a top-15 pick and a "hit". But if he lasts this long it will turn out that we slightly over-ranked him.