Zimmerman rises above at early age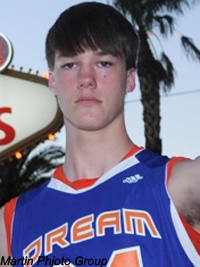 It's pretty hard not to notice Stephen Zimmerman in any setting. He's 6-foot-10, wears a size 19 shoe and towers above everyone in any room he enters.
But here's the most astounding part of Zimmerman's story: He's only 14 years old and just finished the eighth grade.
Zimmerman had already reached the 4-foot mark by the time he turned 4. At 11, he became a 6-footer and was dunking a basketball two years later. Now at 14, he's 6-10 and - get this - supposedly not done growing yet (doctors predict he'll stop between 7-1 and 7-2).
So, no, Zimmerman certainly won't be a typical freshman walking the halls this fall at Bishop Gorman High in Las Vegas. But Bishop Gorman isn't the typical high school, either. Gorman could be the top-ranked basketball team in the nation with four elite D-I prospects, including the No. 1 player in the 2012 class,
Shabazz Muhammad
.
And the newest addition to this roster of stars already is emerging as one of the most intriguing.
UNLV
,
UCLA
,
Kansas
and national champion
Connecticut
already offered scholarships, Zimmerman says, and the NBA is certainly not out of the question.
"As a freshman he has the highest potential of any kid I've seen at Gorman," Gorman head coach Grant Rice said. "Just with his height, his ability and work ethic. He's definitely going to be a special kid.
"It's going to be one of those things where the small- to mid-level schools won't even call because they know they won't be in the ballpark. He's one of those few kids that will be able to pick whatever school he wants to go to. He'll have his choice."
Zimmerman's 2015 class won't hit the national rankings for another couple of years but rankings don't matter to him. His goals are set much higher than a high school ranking.
"I'm just trying to get to my ultimate goal of being in the NBA and being the best player I can," said Zimmerman, whose father is only 6-foot-5. "I want to be one of the best centers that the NBA has ever had."
Eric Bossi, a national recruiting analyst for Rivals.com, said of Zimmerman:
"Obviously he already has size, but he's more than just a big kid running around and looking big. Zimmerman shows excellent skill, has soft touch and is already pretty comfortable with his big frame. He's a pretty fluid athlete given his size and young age.
"I first had the opportunity to see Zimmerman at a showcase last fall as an eighth grader and he's come a long way since then. Despite being the youngest player on the floor in basically every game he plays with Dream Vision's 16-and-under team (his AAU summer traveling club), he's acquitted himself quite nicely."
His height, however, has hurt his chance at living a normal childhood - and it goes well beyond his 8,000-calorie/day diet needed simply to avoid losing weight.
Because of his height and basketball ability, Zimmerman was exposed to the sketchy side of athletics at a young age. His stepmother, Lori Stevens, tells a disconcerting tale of how Zimmerman used to be cornered in public school during seventh grade by coaches from as far away as Southern California.
"(Bishop Gorman) feels like home," she said. "We are accepted. He's accepted. We had him in public school and he would come home and say, 'This man brought me his business card and wanted my phone number.' That, as a parent, freaked me out. I called the school and there was nothing they could do about it because it was public property. We are doing what we have to do to keep him safe so we went to private school."
Zimmerman's coach praised the work he's put in over the past six months, calling it "incredible" for someone of that age.
"He's in the gym almost every night working out with some of the older guys getting after it," Rice said. "I've just seen the progression in the months I've known him and I can't imagine what it's going to be like the next three or four years."
He'll immediately step up to Gorman's varsity squad this year, even though he didn't play organized basketball in eighth grade because he was too much of a mismatch for his opponents. Playing alongside an athlete such as Muhammad, who people have compared with a number of NBA guards, should make Zimmerman even better.
"It's a perfect fit for Stephen coming into a loaded team," Rice said. "There's so much hype surrounding him and he's so talented that the great thing about it is there's no pressure for him this year. If we didn't have some of these guys, the expectations would be extremely high for him this year. He's definitely going to get some minutes. He's definitely going to be a big part of the varsity team.
"It's going to be a really good year for him to get to learn from some of the older guys, who are three and four years older than him. Once it comes to his sophomore year, he's going to have to take on the leadership role."
Perhaps even more entertaining than watching this Bishop Gorman team in games this season would be watching its practices.
Zimmerman talks about trying to defend the goal against the rim-rattling Muhammad in practices. He knows he has a chance to be one of the many that gets dunked on but would like to be one of the few who actually deny Muhammad near the basket.
"Whenever I play against Shabazz, everyone else is afraid to go up against him but I go up with him just because," he said, "whenever he drives, everyone backs up and I'm the only one going up with him. I think of it as, if he's going to get the reputation of dunking on me, which he's done to a lot of people, I want to get the reputation of blocking Shabazz's shot."
Zimmerman's idol and the player he most tries to emulate is 7-foot Dallas forward Dirk Nowitzki. Just like Nowitzki, Zimmerman says his strength is his ability to hit the jumper all the way out to the 3-point line while also having a soft touch in the paint. A weakness? Zimmerman says that he needs to work on is his ball-handling.
As Zimmerman tries to grow his game at the same rate as he's sprouted the past 14 years, he is also attempting to buck a trend that has been increasing in recent years. The United States doesn't generate big guys as much these days. The proof was in this past draft as five of the top seven players selected were 6-9 or taller, yet none of them hailed from this country. Those picks were Enes Kanter (Turkey), Tristan Thompson (Canada), Jonas Valanciunas (Lithuania), Jan Vesely (Czech Republic) and Bismack Biyombo (Congo).
The more Zimmerman becomes known nationally, the more pressure there will be for him to end that trend.
Being the biggest puts added stress to succeed and, even though Zimmerman is having fun with it so far, his mother knows the pressure will arrive at some point.
"I just want him to do his best," Stevens said. "He still really thinks like any other eighth grader. I'm still kind of a realist where I have to hold everybody down. I have to hold the balloon string and if it happens, it's amazing and wonderful but if it doesn't, you are still a success and we are still proud of you.
"We love you whether you are a chiropractor, a dentist, whatever, as long as you give your best, it doesn't matter."
[rl]