Wiseman, Bone impress in Nashville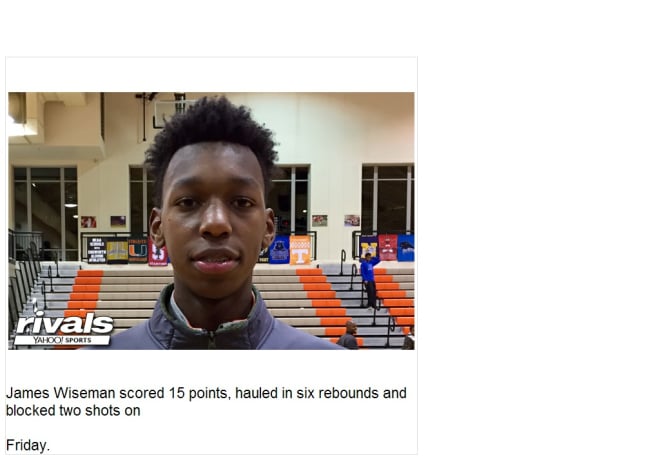 popular stop for high major college coaches over the next few years. Senior
make Ensworth a destination spot.
Wiseman holds promise
Nashville (Tenn.) Ensworth is only two games into his high school career.
However, Wiseman showed on Friday night why his name has been floating around
basketball circles in the South as a potential high-level player.
A slim southpaw with a 200-pound frame to build on, Wiseman was quite impressive
as he delivered a 15-point, six-rebound and two-block effort that showed off a
high skill level.
On his first touch of the night, Wiseman made a high catch that he quickly laid
in off the glass with soft touch. He followed that up with an even better catch
on the run in transition where he quickly gathered the ball, elevated and dunked
while being fouled. So excited about the play was Wiseman that he ran back down
to the other end to play defense before realizing that he'd been awarded a free
throw attempt.
By the time the night was over he had added some jump hooks and converted on
12-foot jump shots while showing off a level of skill that surpassed his
experience level.
Donald Wynn has coached Wiseman in his Enplay program since the freshman was a
third grader and he's seen consistent skill development.
"His biggest assets are his athletic ability and size," said Wynn. "He's really
comfortable with his body at his size. He runs he floor well and he has good
from 12 to 15 feet. He can block shots most of the time and keep the ball in
play."
to campus. The Commodores haven't offered just yet, but one should be coming
Many more programs will be getting involved soon and the spotlight will likely
start to shine brightly on Wiseman but the plan is to keep him grounded.
"He's a very humble kid that's focused," said Wynn. "He has a great support
system in place so he just needs to stay in the gym and focus on his academics
and I believe the sky is the limit."
Bone part of sneaky good Vols class
If you look at Tennessee's five-man 2016 recruiting class of three-star
prospects on paper, it doesn't jump out at you. Only North Carolina small
foundation class that will provide lots of experience and leadership.
good chance of working his way into the Rivals150 when it's all said and done.
In previous viewings, Bone had looked to be a bit more of an undersized 6-foot-1
guard who was trying to play the point. After watching him again, he's clearly a
point guard and he's looking like one that is much better than thought.
Bone showed a tremendous first step, speed with the ball and high level passing
ability. He can score with the jumper and he plays hard on the defensive end as
well. Looking at where he is and who will be on the roster at Tennessee it's
easy to envision him being at least a two to three year starter.
Were Bone still open in the recruiting process there would be a huge battle to
land his services. Instead, Barnes and his staff did a great job of identifying
and locking in on him even and making sure that they landed their point guard of
the future.