Wiseman, Bassey shine at Underclassmen All-America game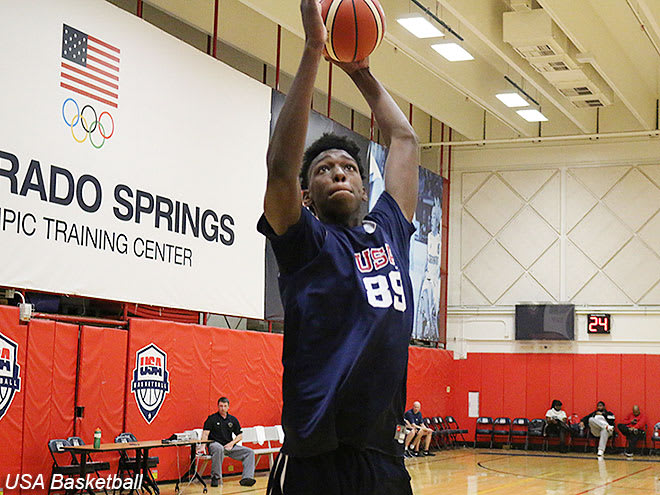 MARIETTA, Ga. — Some very highly ranked prospects in the 2019 class shined at the Underclassmen All-American game Sunday, while a few prospects in the 2020 class established themselves as players to watch going forward.
His day: Wiseman won MVP for the West team and it really wasn't that hard of a decision. He was easily the most active player on their team making plays at both ends of the court. His length and athleticism carried him throughout the day as he was dunking everything around the rim on offense, while making life difficult for opponents at the rim on the other end. In the second half, Wiseman broke out the jump shot as he calmly knocked down a three-pointer in transition. It's going to be all-out war to sign him in the 2019 class.
Who is involved: Alabama, Florida, Iowa, Tennessee and Vanderbilt offers with interest from Kansas, Kentucky and North Carolina.
His day: Bassey took home the MVP honors for the East, and like with Wiseman, it wasn't really a difficult pick. Bassey knows exactly what he is as a player and doesn't stray from it. He's a freak athlete at 6-foot-10 that dunks everything anywhere near the rim. He may have had 10 dunks Sunday. He's very tough on the boards and also protects the rim at a high level. There is little doubt why he's ranked so high in the 2019 class. Bassey is already ranked as the No. 2 player, and before all is said and done, don't be surprised if he makes the move to take over the No. 1 spot. He's insanely gifted at 6-foot-10. If he continues to become more polished at the offensive end, he has a chance to make a lot of money playing basketball in the not-too-distant future.
Who is involved: Baylor, Kansas, Texas A&M and TCU have offered.
His day: Jeffries started the day off with a very impressive stretch. He connected on two very smooth looking jump shots, the first one from mid-range and the second from a couple feet beyond the three-point line. His shot looked great all day and he made several very impressive drives to the rim. In transition, he's always capable of throwing down a highlight reel dunk. He looked every bit the part of a five-star prospect.
Who is involved: Kansas, Ole Miss, Memphis, Texas A&M and Iowa State offers.
His day: Harmon showed off a pretty complete overall game. The 6-foot-2 lead guard who is already ranked a four-star prospect was a very efficient facilitator and also created some of his own offense. He possesses the burst to get by defenders pretty effortlessly.
Who is involved: Texas, SMU, Oklahoma, Oklahoma State and Georgia Tech have offered.
His day: Mann started off a little slow, but quickly turned his day around with a couple deep jumpers in the second quarter. He's a very quick, shifty guard with a very smooth perimeter stroke. He's not an above-the-rim player, but he finishes in the paint well through using the backboard to his advantage. He's an intriguing player.
Who is involved: Texas A&M offer with interest coming in from throughout several ACC and SEC schools.
His day: He may have been one of the youngest prospects in attendance at 14 years old, but he was also one of the more impressive. Already 6-foot-9, Foster is a very skilled forward with a really nice looking jump shot out to three-point range. He's a very fluid athlete as well. There will be a long line for this one in the 2020 class.
Who is involved: Offers already in from Creighton, Iowa and Iowa State.
His day: Edwards, who recently re-classified from the 2019 class to the 2020 class after transferring to Holy Spirit Prep in Atlanta, had arguably the most exciting play of the day. He drove baseline and threw down a monster dunk in traffic. The 6-foot-4 combo guard also showed off his complete offensive game by hitting jumpers and making some nice passes in the transition game.
Who is involved: Auburn, Clemson, Florida State, Georgia Tech and Texas A&M have offered.