Wisconsin lands fast rising shooting guard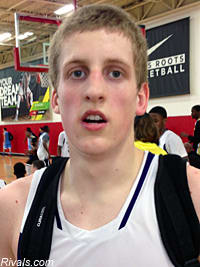 "Growing up I've always been kind of a Badger fan," Pritzl told John Veldhuis of BadgerBlitz.com on Thursday night. "[But] I definitely went in wide-open when I got the offer. I was looking into other schools like Marquette and stuff like that. Ultimately when it came down to it [Wisconsin] was the best fit for me to make a home for the next few years of college."
Last summer, the current three-star prospect showed some flashes playing for the Wisconsin Playground Basketball Club. This spring, though, Pritzl has been playing at an entirely new level and his game is flourishing.
First of all, Pritzl is one of the most intensely competitive shooting guards in the country. That isn't usually a position where the most physical players are found, but he embraces physicality, is a very good ball handler and loves to drive to the rim and draw contact.
Away from the rim, Pritzl is has emerged as one of the more dangerous shooters in the country. He can be a little streaky, but he has a compact stroke with a quick release, deep range and most of all he is confident in his shot.
Defensively, he plays with the same confidence and swagger that he does on the offensive end. From a scouting perspective, he is similar to a young -- albeit a little shorter -- version of Virginia's Joe Harris.
When the 2015 Rivals150 gets updated in early June, Pritzl will make an appearance in the top 100 and be rated as a four-star prospect. He is the Badgers first commitment from the junior class.

[rl]