Winslow seeks best fit for college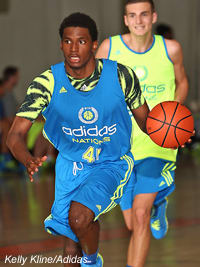 In Garden Grove, Calif., to compete at Adidas Nations, the 6-foot-6 five-star from Houston (Texas) St. John's said he's looking forward to getting home and getting rest.
Winslow hasn't set visits and could make another cut to his list. Both are things he hopes to have figured out within the next month.
"Maybe in early September I'll cut it down," Winslow told Rivals.com. "But right now I've got it down to eight and I'm just going to go from there."
"This week, I've been trying to work on visits. Coaches have been texting me dates, but you only have five officials and I have eight schools so I need to work that out."
A winner who has played several roles over the past few years, Winslow can be a scorer, a lockdown defender or a guy who helps run a team. Because of that, he's being pitched on playing a variety of roles and it is a matter of sorting out which one suits him best.
"Different coaches have different recruiting pitches that they use on me," Winslow said. "I like my versatility and I like where it has gotten me to today, and I just want to find the best fit for that."

[rl]