Why is Vernon Carey No. 1 in 2019 and what schools are in pursuit?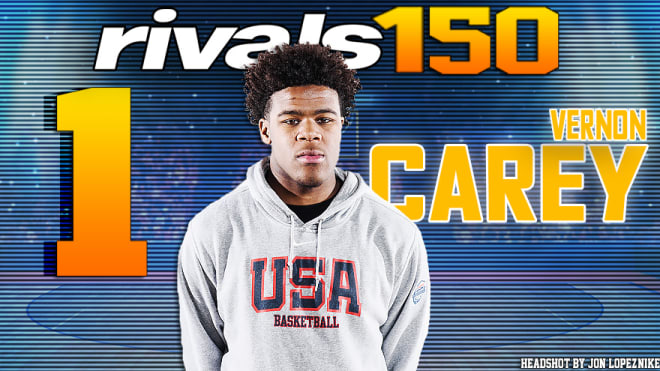 Once again, Vernon Carey Jr. has held onto his spot atop the 2019 Rivals150. As others continue to give chase in hopes of knocking him from the No. 1 spot, we take a deeper look at Carey.
RELATED: Meet 2019's updated top 10 players

What makes the 6-foot-10, 275-pound center the top ranked player in the class? How can he get better and continue to fight off others? Also, what's the pitch from each of his five finalists of Duke, Kentucky, Miami, Michigan State and North Carolina and what holdups might any of them face in trying to land him?
THE SCOUTING REPORT
It shouldn't be a surprise that as the son of a former NFL offensive lineman that chief among Carey's best traits are his size and his strength. Vernon Carey Sr. was a first-round NFL draft pick and played eight years in the league. In addition to his tremendous size and natural strength, Vernon Jr. has great hands and very nimble feet. But, he's more than just the beneficiary of good genetics.
Above all, Carey is a skilled basketball player. He passes exceptionally well out of double teams, he is in the right spots on offense and whether it be on the low block or facing the rim, he's a pure scorer with loads of moves at his disposal. Around the rim he uses either hand, has every fake and spin and if it comes down to it, he can just overpower opponents. Facing the hoop he has legitimate three-point range and is pretty good at finding ways to score off of one or two dribbles against other big men.
To hold onto the top spot, Carey is going to have to get in a little bit better shape. He's not a bad athlete, but certainly fine tuning himself physically would allow for some increased explosiveness. Also, while Carey does have a developed game facing the rim, he is sometimes too reliant on it. Sure the game is all about spacing and shooting these days, but no guy with Carey's skill or ability to score on the block should ever forget that he's most effective when he softens up the interior of defenses with low-post scoring before facing up to hit jumpers.

HIS FINAL FIVE
The pitch: Come get coached by arguably the best coach of all time and have the chance to compete for a national title alongside a bevy of other elite, five-star prospects that you're already friends with. You saw how we used Marvin Bagley; you have the chance to see similar opportunities here.
Potential holdups: Who is going to get Carey the ball? There have been questions surrounding the point guard position and Duke's inability to find pass-first playmakers since Tyus Jones. Tre Jones answers the bell, but will he be on campus for Carey's freshman year? Is he okay sharing the platform with a handful of others or does he want to be 'the guy'.
The pitch: It is Kentucky. Come here and be on TV every game, be adored by Big Blue Nation and develop into the next lottery pick coached by John Calipari. He will get the best out of you and mold your game for the new NBA just as he did with DeMarcus Cousins, Anthony Davis and Karl Anthony-Towns.
Potential holdups: The numbers game. Is Carey comfortable being looked at everywhere he turns when he's off the floor? Does Carey want to take the leap and potentially not have as many minutes or shots available to him early when compared to some of the others in the race for his signature?
The pitch: Stay home and there is no question you will be the man. Come change the complexion of the program. Your father won a national title here on the gridiron; let's do it on the basketball court with you as the centerpiece of our program.
Potential holdups: Does Carey want to follow in his dad's footsteps? Being caught up in the FBI scandal --- especially when it doesn't seem it should have been -- ruined Miami's 2018 recruiting. Is he more concerned with having a chance at making the NCAA Tournament or does he want to be sure he has a chance at National Championship?

The pitch: We are different. You are coming to Michigan State, a program known for its big men. One that just produced top five pick Jaren Jackson. Miles Bridges, Zach Randolph and more have played for Tom Izzo. You can be the next to enroll and leave as a high lottery selection.
Potential holdups: Distance from home and not playing in the conference that he grew up watching, the ACC. What other big men will be around at Michigan State' and what type of minutes are available? Going from Miami to East Lansing could be a big change for a teenager.

The pitch: We love to get out and run and no one is better out in the open floor than you are Our work with big man in recent years is the best in the game. Look at the development of Luke Maye, Brice Johnson or Tony Bradley, they've made big strides and we get them the ball. Imagine what we could do with you?

Potential holdups: Is Carey comfortable sharing the spotlight with others in Chapel Hill? Is the number of big men that should be back a potential issue for him? Sure, he will be the most talented, but there could be a handful of bigs with a couple of years experience ahead of Carey.