Whispers: A leader in Selby sweepstakes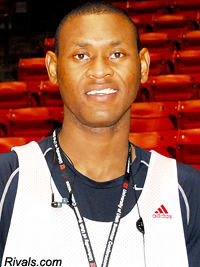 Elite combo guard
Josh Selby
was unable to make it to UConn for his official because of car trouble, and his upcoming Kentucky trip might be in jeopardy as well.
"If Josh continues to win, I don't know that we will be able to make the Kentucky visit," Maeshon Witherspoon, Selby's mother, said. "I don't know if a UConn visit will happen, either. But it's not like we haven't already visited and seen the campus and met the coaches."
So of the four schools - Arizona, Connecticut, Kansas and Kentucky - Selby is considering, Kentucky might just be losing ground. Kansas and coach
Bill Self
look to be in a strong position with Selby.
"I'm not saying Josh is liking one school over the others, but he is getting more comfortable with certain coaching staffs - which is making it a little easier to make a decision," said Witherspoon. "Kansas has been the most consistent throughout the process. (Connecticut assistant) Coach LeFlore has been great. And with Arizona, I have my relationship with Book (assistant coach Emmanuel Richardson).
"One staff I'd like to know better is Kentucky. I know Orlando Antigua pretty well, but I would like to get to know Coach Calipari better."
Selby doesn't plan to announce a decision until later in April, but visits to Kentucky and UConn aren't a sure thing at this point. Selby's mother also indicated that her son's recruitment will not be impacted by where other elite players commit.
"At one time Josh was going to announce his decision when he finished his visits," said Witherspoon. "Now we are waiting till the Jordan Game, so we can see how all the teams play in the tournament. It has nothing to do with us being concerned with what Brandon (Knight) is doing."
DOUBLE PLAY?
Georgetown and 2012 prospect
Jordan Goodman
are in the process of solidifying a commitment.
"It's almost done, but we haven't sealed the deal yet," said Goodman's father Deon Goodman. "Jordan and some other players have met with the staff, but I need to meet with the staff this week. An offer has been received and accepted. We just need to confirm it with Georgetown."
Goodman is a 6-foot-8 power forward from Temple Hills (Md.) Progressive Christian. As important as Goodman's commitment is to the Hoyas, it might be more important in the recruitment of 2010 post player
Moses Abraham
.
Abraham still has plans to visit Seton Hall this week and Indiana this Saturday, but Goodman to Georgetown likely signals Abraham to Georgetown.
"It will be hard to say no to Georgetown," said Abraham's guardian and mentor Joe Boncore. "He and Jordan are teammates and good friends. They would love to play together in college. Plus, me and Jordan's dad are great friends, so this could be a great situation for all of us."
COMING ON STRONG
Henderson (Nev.) Findlay Prep power forward
Godwin Okonji
visited San Diego, New Mexico and Hawaii prior to the early signing period but decided to hold off and wait until the spring to sign. Now, he has a host of high-major programs after him.
Texas Tech hosted him on an official visit this past weekend. Iowa State, Marquette, Missouri, Providence and UCLA have all been in to see him recently.
Okonji, who is 6 feet 8 and weighs 225 pounds, will take his last official visit before settling on a school.
FREE THROWS
Elite 2011 wing
LeBryan Nash
of Dallas Lincoln High School took in the Oklahoma State win over Kansas. The Cowboys are considered a major player in the Nash sweepstakes.
Even though Selby wasn't able to visit Connecticut over the weekend, promising 2011 point guard prospect
Shabazz Napier
of Groton (Mass.) Lawrence Academy was on campus.
Top-10 prospect
Cory Joseph
put his name in the Henderson (Nev.) Findlay Prep record book Friday night. Joseph broke the single-game scoring record with 38 points on 12-for-15 shooting. He also dished out 10 assists and grabbed 10 rebounds to become the first player at Findlay Prep to record a triple-double.

Click
Here
to view this Link.

Click
Here
to view this Link.