What We Learned: Tarkanian Classic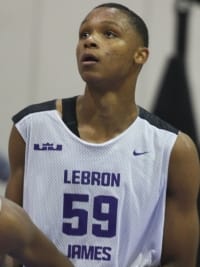 LAS VEGAS -- The second Tarkanian Classic is in the books, and it is safe to say that it was another successful one. The Tark Classic has cemented itself as one of the premier holiday-time events in high school basketball. Here's a look back at what we learned throughout the week.
Johnson is 2014's Alpha Dog
The No. 3 player in the class of 2014,
Stanley Johnson
proved once again that he is the most dominant on the floor personality in the senior class. Others can come close -- namely No. 4
Cliff Alexander
-- but when it comes to intensity, being verbal and establishing himself as the Alpha Dog on the basketball court, Johnson is tops.
One of the most physical and aggressive wing players that the high school ranks have seen in some time, the 6-foot-7 wing out of Santa Ana (Calif.) Mater Dei is more than just a tail kicking bully, though. Johnson is highly skilled, he is a winner and a leader by example and verbally on both ends of the floor for his teammates.
Mater Dei has now won the Tarkanian Classic championship in both years of the event's existence, and Johnson is a two-time MVP. In Vegas he showed off an improved stroke from beyond the 3-point line, the ability to run the point for stretches, and he also took his already strong defensive game up a notch. Bottom line, Johnson is one dog whose bite is every bit as bad, if not worse, than his bark.
Rabb's case is a strong one
We spent an awful lot of time at the Tarkanian Classic writing and tweeting about the play of 2015's No. 3 player,
Ivan Rabb
. The fact of the matter is that the 6-foot-9 power forward from Oakland (Calif.) Bishop O'Dowd deserved that kind of attention for what he was doing on the floor.
Often times with young big men, it is all about potential and where they could be several years down the road. Rabb certainly has plenty of potential and with his slender, still maturing frame it is hard not to think about where he will be once he adds physical strength to the mix. But even without a ton of experience or strength, Rabb is already tremendously skilled and has elevated his game to an entirely new level of excellence since we saw him at USA Basketball's Developmental Camp in October.
A truly ambidextrous post player, Rabb makes it awfully tough to discern whether or not he is a natural righty or lefty (his natural hand) when operating in the low post. Because he's so comfortable using either hand, Rabb is capable of setting up shop on either side of the lane and turning to either shoulder to finish with either hand. Most young post players favor one side or another and even more are dominant spinning to the shoulder opposite of their natural hand to set up an easier scoring move (lefties spin right and righties spin left).
Rabb has also extended the range on his jump shot, is a much more dangerous shot blocker and has really become a vocal leader on the floor. Many others in the class will still have a lot to say about how everybody stacks up, but headed into 2014 Rabb has built up some healthy momentum in the chase for the No. 1 spot in 2015.
Change of scenery good for Trier
Watching class of 2015 four-star shooting guard
Allonzo Trier
in the summer of 2012 and then the summer of 2013, some worries developed. The 6-foot-3 shooting guard from Oklahoma didn't really show many new wrinkles to his game, and he was becoming far too reliant on his outside shot.
After dominating home school competition in Oklahoma, the No. 46 player in the junior class made a move to Rockville (Md.) Montrose Christian. It is too early to tell whether it was the move, playing against better competition or just hard work by Trier -- and most likely it is a combination of all three -- but his game looks to be headed in a positive direction.
While Trier remains a dangerous jump shooter who can make teams pay from deep, he showed a much more balanced and diverse game in Las Vegas. He attacked the rim with more aggression, mixed in more pull-ups and also showed more floor awareness when it comes to setting teammates up. Credit Trier for taking his game up a bit when there was worry that he could be stalling in his development, and we look forward to seeing where he is come springtime.

Click
Here
to view this Link.
[rl]