What we learned: John Wall Holiday Invitational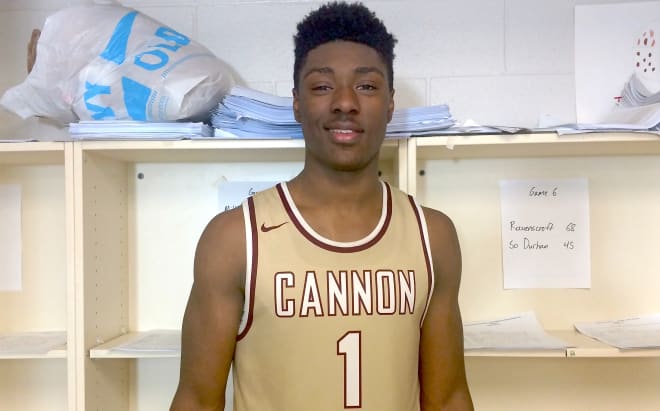 RALEIGH, N.C. – Former Rivals.com No. 1 John Wall is now the title sponsor of a big time high school event he once starred in back in his hometown of Raleigh. The Washington Wizards point guard was on hand for some of the John Wall Holiday Invitational and he had to have liked what he saw from rising stars like four-star junior Jairus Hamilton and five-star sophomore Vernon Carey.
Rivals analyst Corey Evans breaks down what he learned in Raleigh.
MORE BLUEBLOODS SHOULD ENTER MIX FOR HAMILTON
Kentucky head coach John Calipari was in Raleigh to see unsigned five-star senior Kevin Knox. However, Calipari changed his plans and made the trip in three hours earlier to get a glimpse of 2018's No. 43 ranked player, small forward Jairus Hamilton.
A 6-foot-7 junior with a college ready body, passing the looks test has never and will never be much of an issue for the Concord (N.C.) Cannon School product. However, Hamilton has had issues making jump shots and handling the ball against tougher defenders. That all has changed this winter and after surpassing 30 points and 10 rebounds in all three of his contests at the Chick-Fil-A Classic in mid December, the well-built prospect did it again in Raleigh.
Hamilton is an excellent playmaker and passer out of the forward position. He can now comfortably knock down jumpers when the time and space is given to him while also putting up giant numbers on the glass. Capable of being used at either the 3 or the 4, Hamilton boasts offers from Arizona, NC State and UNC but after being watched by John Calipari, Roy Williams, and Mark Gottfried (who brought his entire staff to watch). Hamilton is turning himself into a priority level prospect.
FIVE-STAR SOPHOMORE BIG MAN CAREY MADE A STATEMENT
Already the eighth ranked prospect in the 2019 Rivals Top 50, 6-foot-9 power forward Vernon Carey of Ft. Lauderdale (Fla.) Unversity may be a bit under valued by Rivals.com.
Still only 15 years old and sporting a 7-foot-2 wingspan, Carey played like a guy who at least wants to compete for the top spot in the sophomore class. More of a face-up player who can also trail to make shots out to 20 feet in transition, Carey also has the skills to take his defender off the bounce with either hand.
Already boasting offers from the likes of Miami, Baylor, UConn, Louisville and Florida, schools have begun to prioritize the southpaw. However, expect for things to get ramped up another level or two. While more of an introverted type of kid off the floor, Carey is just now developing alpha dog attributes on the court. He tallied over 30 points during his two final contests and was the primary reason for his team winning both of its contests.
JOSH GREEN LOOKS LEGIT
We were first impressed with 2019 wing Josh Green at the Marshall County Hoopfest in early December. In Raleigh, the 6-foot-5 sophomore from Phoenix (Ariz.) Hillcrest again looked to be a legitimate high major prospect and potential top 50 type player.
Playing with 2017's current No. 1 ranked player DeAndre Ayton, it could be tough for a young player like Green to separate himself from the crowd, but that's exactly what he did. Capable of playing either guard position, Green looked very good running the show and making decisions thanks to his passing abilities and overall pace. There is good reason for why the sophomore already holds offers from the likes of Arizona, UNLV, Cal and TCU.
Green's older brother, Jay, is heading to UNLV next year as a member of the 2017 class, but Josh is quickly establishing himself as a better prospect than his older brother. A native of Australia, Green looks set to keep the pipeline of Aussie talent into the States flowing.
FRESHMAN CASHIUS MCNEILLY HAS A BRIGHT FUTURE
We are still some time away from putting together rankings for the class of 2020 but one freshman that has our attention is Cashius McNeilly. A 6-foot-4 lead guard with length and feel for the game, the product of the Thornlea Secondary School in Toronto could be the next big name out of Canada.
McNeilly kicked off the event by showing great his vision and passing ability. He made the proper dish following the high ball screen, hit the open man on the dump off dish in the lane, and made plays as a drive and kick floor general. He also showed that he could score the ball when needed.
McNeilly scored 21 points one game before exploding for 30 points (including seven three-pointers) in another outing. Last summer, McNeilly played up on the 17U level of the Under Armour Association with Canada Elite and was also named MVP of the Under Armour NEXT Game in August. McNeilly's maturity, advanced skillset, and natural talent make him one that we are sure high level programs will be tracking closely from here on out.