What we learned in SoCal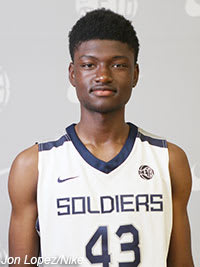 To close out 2014, Rivals.com made a swing out West to check out the Under Armour Holiday Classic in San Diego and the MaxPreps Holiday Classic in Palm Springs. There was plenty to be learned about players like Chimezie Metu, Shamorie Ponds, 2017's top player DeAndre Ayton and more.
Ayton clear-cut No. 1 in 2017
Coming out of the summer of 2014, it seemed pretty clear that
DeAndre Ayton
was the top prospect in the class of 2017. Seeing the near seven-footer from San Diego (Calif.) Balboa City only made his hold on the top spot in the sophomore class more concrete than it already was.
First off, there are the obvious physical traits that jump out at anybody who watches Ayton for even a minute. Guys his size who are only sophomores aren't supposed to be able to move like he does. Ayton runs the floor like a sprinter, gets off the floor in a hurry and has near mind boggling quickness and ability to change directions for player his size.
Not only do his physical tools check all of the boxes at the highest levels, Ayton has a competitive spirit to match. So many young big men are timid and quiet, Ayton is aggressive and a verbal leader with his teammates. There's no shell for him to be drawn out of and he wants to dominate on both ends of the floor.
Finally, there is his ability as a basketball player. Not surprisingly he is a dangerous shot blocker and good rebounder but he has some game to go along with everything else. Ayton has great hands, is a very good passer out of double teams and can already make a 12 foot jumper. His footwork isn't yet where it is going to be, but for a high school sophomore his footwork is well above average and he already has a couple of counter moves he can go to if his initial idea is thwarted by defense.
Currently, Ayton isn't talking recruiting and neither is his coach Zach Jones. Clearly, he will be able to go to school anywhere he wants and like so many other top rated prospects these days, the rumor that he could eventually reclassify is already out there. That stuff will start to shake out in the near future, but for now it is quite clear that the No. 1 spot in 2017 is his to hold onto and that it won't be easy to take from him.
Ponds will be a four-star prospect
It's hard not to see at least a little bit of former Louisville star
Russ Smith
when watching Brooklyn (N.Y.) Thomas Jefferson junior point guard
Shamorie Ponds
. Actually, it is hard not to see quite a bit of what made Smith a college star in the way Ponds plays.
Ponds is about the same size -- a skinny six-feet -- and has great quickness, range on his jumper and a fearless attitude when it comes to playing on the offensive end. Whether it is letting jumpers fly from deep or using his exceptional quickness to get around defenders and into the lane, Ponds plays with a level of confidence with the ball in his hands that makes it easy to like him.
Does he need to get stronger? Of course. Could he be a bit more judicious with his shot selection? Probably so. But, Ponds is one who is coming on strong and it is because he has proved it with his play. Offers are already in from St. John's,
Seton Hall
,
Minnesota
,
South Carolina
, Fordham and Iona and more will be on the way. When the class of 2016 rankings get an update during the spring, look for Ponds to make his debut somewhere in the four-star range.
Metu is coming into his own
A bit thin in the frontcourt,
USC
and
Andy Enfield
really need for four-star power forward
Chimezie Metu
to be ready as soon as he arrives on campus.
From the looks of it, the 6-foot-9 power forward at Lawndale (Calif.) High is going to be up to the challenge.
Always highly ranked -- he's currently No. 46 in 2015 -- because of his athleticism, size and perceived potential, Metu is now justifying that ranking because of his ability.
Brimming with confidence, Metu showed a much more well rounded game in San Diego. He made confident looking jumpers from mid range, he soared above the rims for dunks and he played with a newfound physicality around the rim. He has matured both physically and mentally and is looking like he could be the most talented Trojan from the second he arrives on campus.
Does that mean that Trojans fans should be looking for him to be a leading scorer or rebounder? That might be expecting a little too much out of the shoot. However, Metu is absolutely improving at a fast pace and more and more looks like a player capable of stepping in and making an immediate, and valuable, contribution.
Ogbeide to contend for final 2015 rankings
When
Georgia
landed 6-foot-9 center
Derek Ogbeide
at the tail end of the signing period, the jury was out. Was the big man from Mableton (Ga.) Pebblebrook a legitimate score? Or, was he just a big body with some long term potential?
After getting a few looks at Ogbeide in the MaxPreps event, Rivals.com would put him in the category of legitimate score. Of all the seniors that we saw during our travels through November and December, Ogbeide is as improved a player as we came across and the Bulldogs should be able to reap the benefits longterm.
What Rivals.com likes most about Ogbeide is that he is a ferocious competitor with a clear understanding of who he is. There's no hovering around the three-point line and clapping his hands or attempts to take the ball coast to coast from this guy. What there is, though, is intensely physical play around the rim, battling for rebounds and opportunistic scoring.
He's not a guy that you post up and run your offense through, but Ogbeide has become at least a threat on the low block and is one of those guys who creates his own opportunities through hard work and hustle.
When he gets to Athens, Ogbeide should be ready to play SEC basketball from a physical standpoint and he won't lack for effort. How much he improves offensively and with his feel for the game between now and then will have a big impact on how early and often he helps out but it's not out of the realm of possibility to see him end up as at least a two or three year starter and he's somebody that Rivals.com is going to have to seriously consider for the final Rivals150 in 2015.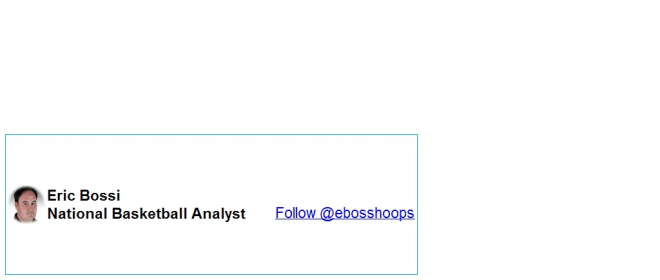 Click
Here
to view this Link.