What we learned in Las Vegas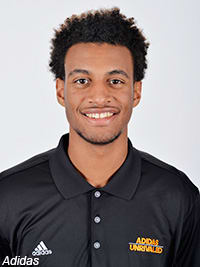 With so many top travel teams, top prospects and college coaches in Las Vegas
this weekend, there was a lot of action to take. Here is what we learned while
out in Sin City.
start collecting draft picks
Much like the 2014 NBA Draft, general managers will be very excited for what
will be coming their way in the 2017 NBA Draft with all the talent coming out in
the Class of 2016.
At 6-foot-7 with elite athleticism and potential to be an All-NBA defender, don't expect him to be in college long wherever he ends up.
Offensively, he looks the part of the top overall prospect as well with his
ability to attack the rim and make others around him better. He may not quite be
NBA GMs would have loved a front row seat at Saturday night's matchup between
Mac Irvin Fire and Arkansas Wings. There were three five-star prospects on the
ability on display and proved that he can score with anybody in the class.
variety of ways.
This is just a small sample of what the 2016 class has to offer to the NBA.
There are several others that will have NBA decision makers very excited in two
years.
loaded
Generally, Louisiana isn't considered one of the top states in the country for
pumping out basketball talent. That perception may change with the talent coming
through in the next few classes.
No. 44 overall in the
2016 class, had a terrific weekend for Elfrid Payton Elite. He's grown to about
6-foot-6 now and can legitimately play point guard or play off the ball in a
scoring role. He's yet to make a college decision, but whittled his long list
down to 11 schools recently.
Orleans Elite and put on a show against the Atlanta Celtics on Friday afternoon.
Despite losing to a more talented team, Peters pumped in 27 points and seven
assists, and was the best player on the court.
and he too had a very good weekend. At about 6-foot-4, Mays plays with great
pace to his game. Like Jarreau, he's fully capable of playing either spot in the
certainly weren't alone.
point guard in the country. He's already 6-foot-5 with a strong, athletic build,
and has turned into an elite playmaker. Coming into the weekend, there were
concerns about his ability to shoot, but he put those to rest by connecting on
multiple threes in a couple different games this weekend. He's already beginning
to collect offers from some of the nation's best programs.
louder than words
College coaches at the highest level have spent the last several months trying
to say the right thing and make their top targets feel wanted. But at the end of
the day, many people believe actions speak louder than words and like to see the
head coach put his money where his mouth is in July by showing up at a
prospect's game. Better yet, another way to show just how important an
individual prospect is to a school is to have the whole staff show up at a game.
separate occasions in Las Vegas, the whole staff was in attendance to see the
Nashville native play with the Atlanta Celtics.
alongside.
and an assistant usually could be found somewhere in the gym if Jackson was
playing this month.
There are always prospects that fly under the radar in every class before going on to have very productive college careers. A prospect can stay under the radar for a number of reasons, whether they aren't playing enough, aren't getting seen by enough coaches, or they simply don't have the measurable a coach desires.
He may not have the prettiest game, but one school is going to be very happy they signed kogie. The knock on him in the past had been his shot, but he's become a much better shooter since the high school season ended. His ball handling was another question, but he's improved dramatically in that area as well.
What has never been a question with Okogie are the intangibles. He's always leaving it all on the court. He's a tough kid. He's a team player. Those attributes when combined with the skill he's starting to develop are the recipe for a very good college player.