What is Georgia getting in Tom Crean?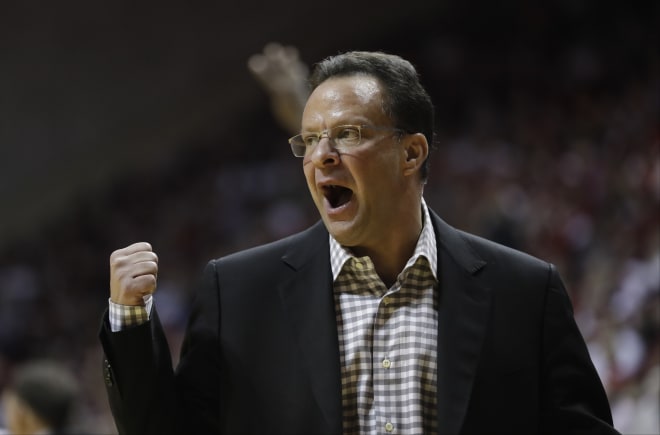 The Georgia Bulldogs have found their replacement for Mark Fox. Thursday night, the university announced that it had hired Tom Crean to lead its basketball program.
What is Georgia getting in Crean? What's the local reaction? What does he need to do on the recruiting front and what's National Basketball Analyst Eric Bossi's take on the hiring?

THE CREAN FILE
During a head coaching career that included a total of 18 years as head coach at Marquette and Indiana, Crean posted a 356-231 record. He has reached the NCAA Tournament nine times, made the Final Four at Marquette in 2003 an reached the Sweet Sixteen three times during his nine years at Indiana.
Though he only finished below .500 in conference play one of his nine years at Marquette, Crean's teams at Indiana were under .500 in Big Ten play on five occasions. Crean won one Conference USA regular season title at Marquette and two at Indiana.
During his nine seasons at Indiana, Crean landed a total of 22 Rivals150 players and included in that bunch were four five-star prospects.

LOCAL REACTION
Some of the top local coaches from the state of Georgia gave their reactions to Crean's hire to Rivals.com.
Discovery High School head coach Cory Cason: "Hopefully coach Crean can come into Athens and push the program over the hump. I think coach Fox and his staff really laid a great foundation for the program. He's got some good returning pieces especially in the front line and I know we are looking to see the Dawgs back in the NCAA Tournament soon. The ability to consistently recruit the Atlanta area will be a huge factor in his success.
Georgia Stars 17U head coach Chris Richards: "He's got experience getting high level players and has had a lot of success in the tournament. It's a good move for Georgia."
Norcross head coach Jesse McMillan: "Whatever direction UGA goes with the new coach, my biggest concern would be the hiring of someone with little to no connections to our state. I believe all Georgia prep coaches want our in-state colleges and universities to be successful. Unfortunately, this cannot happen without genuine connections. The previous UGA staff was really starting to create those relationships as seen with the recent commitments from top Georgia players, but it took almost a decade to do so. I'm afraid that history will repeat itself without a well-thought out hire. Keeping Jonas Hayes would help. That would definitely bring some continuity."
Rory Welsh at Langston Hughes HS: "Has a ton of high-level experience with Indiana and Marquette. Proved he can win games in the NCAA tourney. But, obviously he's a Midwest guy, will be interesting to see how he assimilates to recruiting in the South."
A LOOK AT RECRUITING
Georgia currently has two prospects signed in the 2018 class in four-star power forward Amanze Ngumezi and three-star small forward JoJo Toppin. As long as Crean makes an effort to keep them, it's likely both will stick around. In the past month, Georgia lost both highly ranked 2019 commitments as five-star point Ashton Hagans backed out followed by four-star small forward Elias King earlier this week.
Crean will have one scholarship available heading into his new gig. Rumors have swirled for a while that Hagans could move up to the 2018 class, so he immediately becomes Crean's biggest target in the short term. If he's on campus next season, he changes Georgia's whole roster immediately. Beyond that there's not a lot left in the class of 2018. Crean will likely at least inquire about five-star power EJ Montgomery but Montgomery is already pretty far down the road with national powers like Duke, Kentucky and North Carolina among others. Three-star point guard Myreon Jones recently backed out of his commitment to Memphis following Tubby Smith's dismissal and could be an option as could three-star combo guard Tye Fagan if he opts out of his Middle Tennessee State letter of intent with Kermit Davis heading to Ole Miss.
In the 2019 class, there are quite a few players for Crean to immediately get involved with. Four-star wings Marcus Watson, Isaac Okoro and Elias King are all talented wings located within 100 miles of Georgia's campus. Kyle Sturdivant and Brendan Tucker are point guards ranked in the Rivals150 located just down highway 316 in Gwinnett County. There are also under the radar prospects like Jaylin Williams, Rodney Howard and Jamir Chaplin who could pop up on Georgia's radar just in the state alone. If the Bulldogs are able to reel Hagans back in, five-star wing Christian Brown is a prospect Georgia's previous staff made a lot of progress with as he's close friends with Hagans and a former Game Elite teammate.
It should also be noted that five-star forward Trendon Watford's brother, Christian, played for Crean at Indiana.

ERIC BOSSI'S ANALYSIS
Tom Crean has proven that he is able to get things done at a high level. At the same time, things started to get ugly towards the end of his tenure at Indiana.

My main questions are regarding on the court performance and local recruiting. Those are the two areas that Georgia most wanted to improve because mediocre was no longer going to be good enough.

However, during nine years at Indiana - one of the nation's premier jobs - Crean posted almost the exact same overall records (166-135, 71-91) that Fox (163-133, 77-79) did during his nine years at Georgia. In Crean's defense, he inherited a huge mess that included NCAA issues and he did make three Sweet Sixteens along with winning the Big Ten twice. The best Fox did at Georgia was tie for second in the SEC and he failed to win a single game in his two NCAA Tournament appearances. From a standpoint of winning league titles and wining games in the NCAA Tournament, Crean is clearly a big upgrade.

Given his start at Marquette where he helped develop Dwyane Wade from unknown to superstar and the ability he's shown to develop players like Victor Oladipo and O.G. Anunoby from three-star prospects into first round picks at Indiana, I do not doubt that Crean can coach and maximize talent. The issue is going to be getting enough talent, particularly locally.

Prior to leaving Indiana, a big disconnect was developing between Crean and the local talent. Of the 38 four-star prospects to play in the state of Indiana while Crean was coach, he landed only seven of them and that includes 2012 when he landed four. After landing the four in 2012, Crean only landed one of 23 four-star or better prospects from the state of Indiana - five-star James Blackmon in 2014 - between 2013 and his final 2017 season.
I do think that a year off like Crean had can do wonders. Hopefully he's been able to re-evaluate how he does things and most of all how he builds local relationships for recruiting. In order to succeed at Georgia it's going to be imperative that he recruits locally better than he did while at Indiana. If he can put together a staff that can help keep home some local talent while still recruiting nationally like he has proven he can do, then Crean could very well be the guy to turn Georgia into the program many nationally think the Bulldogs could be.