What I Liked: Corey Evans from the Under Armour Challenge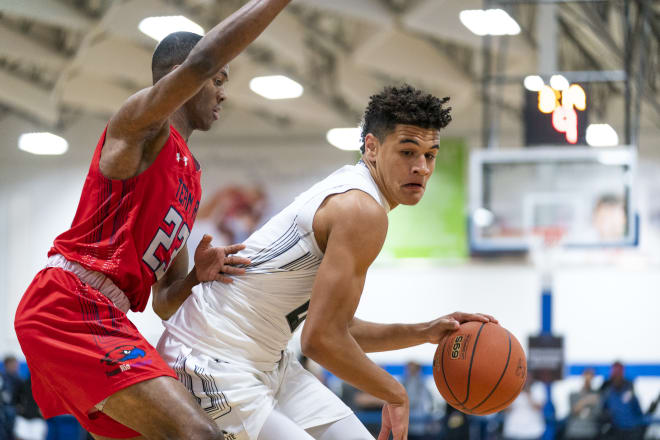 CARTERSVILLE, Ga. — The first full day of the Under Armour Challenge hit center stage on Thursday with some of the best throughout the nation going to battle. There were a number of standouts but what I liked the most was....
...Josh Green's development
Green's talent has never been questioned, but his ability to consistently make shots has. Those concerns were put to bed quickly Thursday morning as he made three consecutive perimeter jumpers during a personal 13-point run. Green is the total package on the perimeter as there is not much that he cannot do. Whether you want dunks, dimes, boards or steals, Green can do it all, which makes him one of the best that the 2019 class can offer.
...Dontaie Allen's effortless scoring
Word out of Kentucky this spring was about Allen and how much better he has become. All of that and more was evident on Thursday as the 6-foot-6 wing put together one of the better scoring days that I've seen all summer long. Did his box score reflect his true impact? Not entirely, but his ability to score off of every angle and spot on the floor was second to none. His recruitment is just beginning to pick up but after his time in Atlanta, worrying about quality options won't be much of an issue for Allen.
...Kai Jones' potential
Jones' upside is staggering. Super long and slender, the Bahamian does have to get stronger in order to consistently produce in the paint. However, his rim protecting skills, defensive versatility and touch around the basket make Jones one of the more intriguing prospects you're going to find this summer. Syracuse became the latest to join the fray with an offer and the Orange won't be the last. Jones' potential is evident and so is the versatility that he brings to both ends.
...Precious Achiuwa whenever he's aggressive
Achiuwa had an up and down spring but he has come on of late because he has gotten back to playing aggressive and attacking. He displayed shades of vintage LeBron James on Thursday with straight line drive attacks and hard nosed finishes above the basket. Achiuwa looks the part and played like it which is why he is a top-10 prospect. While his ball skills have improved, he still is at his best as a small ball power forward that is a dominating presence from the mid-range on in.
...Scottie Lewis on the break
If Lewis can find an uptempo college setting, watch out! He is one of the best athletes in his class and it makes it imperative that he goes somewhere that gets out into the open floor and plays in more high possession affairs. On Thursday, his Team Rio gang did just that as he was remarkably good as an open floor passer that made others around him better. He is a maximum level competitor that plays both ends and while he can still produce whenever things slow down, his capabilities are raised and then some whenever things speed up.
...Josiah James' defensive prowess
James' jump shot remains a work in progress but the lefty's ability to navigate high ball screen sets and play an unselfish brand of basketball helps make up for his deficiencies. However, where his greatest value comes to light is on the defensive end. A multi-positional defender to the core, James has the chance to guard up to four spots at the college level. He has the awareness, length, strength and smarts to concoct for an immediate all-league defender candidate that remains one of the best in his 2019 class.
...Makhi Mitchell's revamped physique
Wow! Mitchell has put the time in with the weights and in getting the proper nutrients into his body and it clearly showed on Thursday, powering his DC Premier unit to two blowout wins. A highly regarded prospect for over two years now, Mitchell is much nimbler near the basket on tough conversions but it is also his ability to produce out on the break and even lead the charge off of the defensive board that really impressed. Committed to Maryland, Mitchell is a day one producer in College Park and the perfect answer to the questions that could arise if Bruno Fernando was to leave early next year for the NBA Draft.
...Jaiden DeLair's development track
One of the more versatile and better upside prospects in the 2019 class, the talent has always been there with DeLair. It sometimes takes a little longer to put it all together but whenever someone of DeLair's abilities does so, watch out! That watch party was on hand Thursday as he defended three positions, scored at the basket and even initiated the half court offense. Practically the entire nation is evaluating or actively recruiting DeLair and rightfully so as his current path of development equates to stardom in the not so distant future.