West Coast swing off to fast start

PALM SPRINGS, Calif. -- Friday morning, Rivals.com made our annual post Christmas trip to the West Coast for various Southern California area events. After a quick stop at the Under Armour Holiday Classic in San Diego, it was on to the Maxpreps Holiday Classic in Palm Springs. With 37 points in the day's first game, relatively unheralded sophomore Richard Polanco was the day's breakout player.
Polanco seizes opportunity
The biggest reason that Rivals.com drove down to San Diego from Los Angeles for the Under Armour Holiday Classic before making the trek to Palm Springs for the Maxpreps event was to check out four-star sophomore point guard
Jaylen Hands
of Chula Vista (Calif.) Mater Dei. That fellow sophomore
Richard Polanco
of San Diego (Calif.) Army & Navy was taking the floor was an added bonus. As it turned out, Polanco ended up stealing the show.
A strong 6-foot-6 wing, Polanco went absolutely nuts from deep. He made eight three-pointers and at one point over the course of the second and third quarters he made seven straight. When he wasn't bombing threes, Polanco showed that he can handle the ball, rebound and be a crafty playmaker for others.
Obviously, he's not going to shoot the ball like that every time out, but with his size and sturdy frame, that he can shoot is a huge selling point when it comes to college coaches that will eventually have interest. Polanco isn't a high flyer, but already has a pretty good feel for how to use his body and mostly needs to eliminate a little extra flash from his game that can lead to careless turnovers. A native of the Dominican Republic, Polanco has been in the States for a few years now. He said that the only school he has really heard from at this point is
Virginia
.
The only downside to Polanco's big outing was that there weren't any college coaches in the building. The 26th is the end of a short dead period on the recruiting calendar, so nobody was allowed to be there. However, it is a safe bet they will find their way to see him throughout the rest of the tournament after word of his big day spreads.
As for the previously mentioned Hands, the 6-foot-1 floor general was playing with a taped right wrist and at times went to great lengths to avoid using his right (natural) hand. He is lightning quick and explosive, but didn't shoot the ball very well and was clearly less than 100 percent in his team's blowout loss at the hands of Polanco and Army & Navy. One other Mater Dei player actually showed some promise despite losing 67-39. Six-foot-7 freshman combo forward
Miles Norris
has good size, long arms and soft touch around the rim. His team got rocked on Friday morning, but he looks like he will be a good one down the road.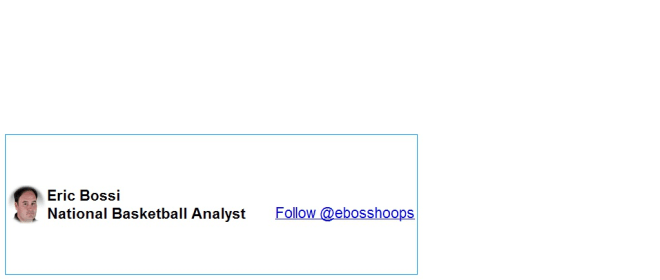 Click
Here
to view this Link.