Weekly Wrap: Changes in team rankings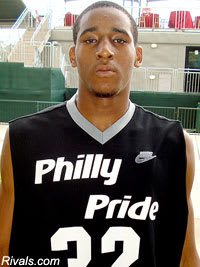 The recruiting period has offered a number of changes and commitments each week.
The past seven days shook up the team rankings, while the class of 2010 is starting to shape up as a number of big commitments took place.
Rivals.com's Justin Young looks back at the goings on in the recruiting world.
BIG CHANGES IN NEW RANKINGS
While Oklahoma and UNLV didn't land any commitments this week, the two check in at No. 19 and 20, respectively, because of the strong three-man classes each school has locked up so far.
HIGH-MAJORS LOCK UP IMPORTRANT TARGETS
There were a dozen players in the 2009 and 2010 Rivals.com national rankings that committed in the last week.
COMMITMENT OF THE WEEK
Harris, a Mississippi native, is the No. 26-ranked player in the class of 2009 and the highest-ranked player since Beas Hamga committed to UNLV in 2007 from a non-Big Six school. Hamga was also the No. 26-ranked player.
Citing his long-standing relationship with Rod Barnes during his time as the head coach at Ole Miss, Harris turned down the likes of Memphis and other high-majors to set up shop in Atlanta.
Harris' presence in the middle and Barnes' post-oriented offense should have the Panthers playing for the top spot in the super-competitive CAA. Georgia State has not been to the NCAA tournament since 2001. With Harris on board, that could change quickly.
Just how good is Harris? He dominated the 2007 City of Palms tournament and was the talk of the tournament. He won the individual battles against the likes of Eloy Vargas (Florida) and Greg Monroe (Georgetown).
2010 CLASSES TAKING SHAPE
Apparently, good things come in twos in the class of 2010.
Sibert is the ninth five-star player to commit to Ohio State since the class of 2006. That is the most of any school in the nation during that period.
MID-MAJOR MADNESS
It was an outstanding week for commitments at the mid-major level.
[rl]