Wednesday's Leftovers: Latest on Precious Achiuwa, Syracuse, more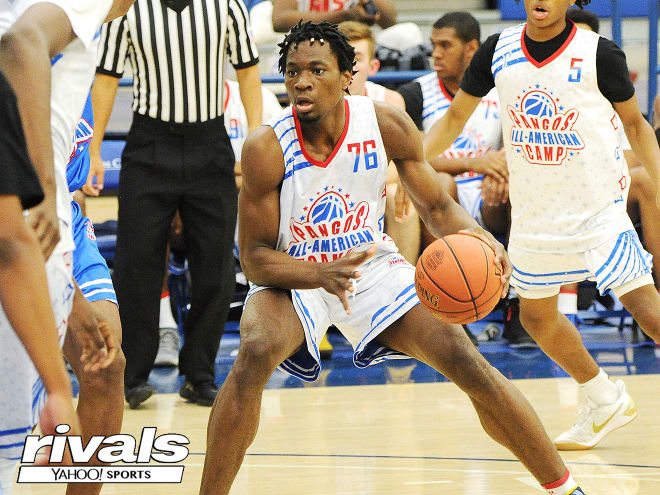 Five-star Precious Achiuwa has yet to speak much on his recruitment, as he placed the majority of his attention on his final summer of travel ball play. Before he begins his senior year - and with a few weeks of down time - I would expect Achiuwa to take a greater look into his recruitment and a final list to be made.

He could put things off a little further and not sign until the late period in April, but either way, look for St. John's and UConn to be the top contenders at the end of the day. Selecting between the two at the current moment is difficult, but the Huskies might have the slight lead. Then again, do not discount UCLA, Kansas or even Pitt, three of the many schools that have placed a heavy priority on Achiuwa over the past few months.
Do I think Louisville is the clear front-runner for either Aidan Igiehon or Rocket Watts? No, I do not. Do I believe that they are in the top tier of programs that could land either of the two top 50 prospects? I sure do.

Igiehon should be cutting his list in the coming weeks, and after visiting Stanford over the weekend, I would place the Cardinal alongside Louisville as the teams to beat. Throw Oregon and Florida in there, too. As for Watts, the Michigan native recently cut his list to a group of seven, and while many believe the explosive scorer will remain in state, I see Florida State, Missouri and the Cardinals as the favorites.

This is not to say that Chris Mack's crew will land both, or either of the two, but they should feel confident heading into the fall regarding the two could-be cornerstone pieces.

Syracuse sits in a fine spot for Rivals150 guard Joseph Girard III, and while the expected commitment following his official visit to campus prior to the July evaluation periods didn't happen, the Orange remain a factor. In the frontcourt, the Orange have made Isaiah Stewart, Akok Akok and Kai Jones priorities. I do not see Stewart choosing Syracuse as his college home, but I do believe the Orange have a strong chance with Akok and Jones.

If they do whiff on all three, somehow, do not discount the Orange's chances in the race for Qudus Wahab, a 6-foot-10 center that recently cut his list to a group of 12. Lastly, Quincy Guerrier, a high-end four-star prospect, will make an early commitment and enroll in college prior to the spring semester. The Orange and Oregon are thought to be the top contenders, although, Minnesota, Creighton, Illinois and South Carolina should not be discounted, either.

Alabama already sits with two Rivals150 pledges on the wings of the floor: Jaylen Forbes and Juwan Gary. The Tide have also been recruiting Trendon Watford, the top-rated player from Alabama, the hardest and for the longest, as they remain a top contender for his commitment. Other programs such as Memphis, LSU and Florida State must be defeated for his signature, however. I would say they have a 50-50 shot with the five-star.

The most likely target of theirs to one day suit up in Tuscaloosa is Kira Lewis. The top 30 guard had a breakout summer, and while some of the best have entered the picture, the Tide have remained a heavy presence. CJ Walker and Drew Timme are two others to keep tabs on, though Lewis and Watford are the jewels of what could be a tremendous class for Avery Johnson.

Cole Bajema pounced on to the scene and emerged during the second of the three July evaluation periods in Los Angeles. Michigan became the first national program to offer the Washington native before many programs from the Pacific Northwest, along with Virginia, jumped in with offers of their own. Headed to Michigan now after a swift offer and commitment this past week, I foresee Bajema beginning his ascent in the Rivals150 as a four-star prospect. What number? That is still too early to tell, as we have yet to fully digest the July evaluation periods, but I do appreciate his competitiveness, long-term potential, shot-making skills and versatility on the defensive end. Those are all components of a successful wing prospect under the tutelage of John Beilein in recent years.

Wake Forest has thrown out a wide net for its 2019 class, and while the Deacons are not in a lead position for any of their targets, they are in the final mix for a slew of the best from the East Coast and beyond. They just made the final six for five-star Trayce Jackson-Davis and remain in the final five for Wendell Moore, their top 2019 target. Anthony Harris will likely take an official visit to Winston-Salem in the coming months, and the same could be said for Patrick Williams, each a four-star prospect found in the Rivals150. Kadin Shedrick, Jeremiah Robinson-Earl, Tre Mitchell and Omar Payne are just a few of the others that the Deacons have continued to actively recruit. Chances that they don't land at least one out of that group are minimal, although they do not need much because their departing class after this upcoming season is small.

Give me EJ Liddell. The competition for the top 50 forward remains stiff, and the Buckeyes are fighting off other programs such as Kansas State, Illinois and Missouri for his commitment, and things could change drastically if Duke were to offer. But with where things stand now - and with a potential visit to Columbus next month - the Buckeyes could be set to complete its class with three top 50 prospects before October rolls around.

If not Liddell, keep tabs on Omar Payne, Lester Quinones, Zach Harvey, Malik Hall, Patrick Williams, Brandon Newman and Samuell Williamson, as the Buckeyes have remained a heavy presence in each of those four-star prospects' recruitments in recent weeks.
Rhode Island has already struck once in the 2019 class, thanks to the commitment of three-star wing Mekhi Long, and more good news could be ahead for the Rams. Do I believe that they will eventually land Qudus Wahab? No. While URI made the final list of 12 for him, others such as Louisville, Virginia Tech, Pitt and Syracuse have a better chance.

They are in a better spot with Anthony Walker. The Rams were one of the first to prioritize Walker before his so-called "blow-up" this past July, and have remained a heavy presence in his recruitment. Expect the Rams to remain a heavy factor with him in the coming weeks.