Wednesday's Leftovers: Kansas, Villanova, UConn, more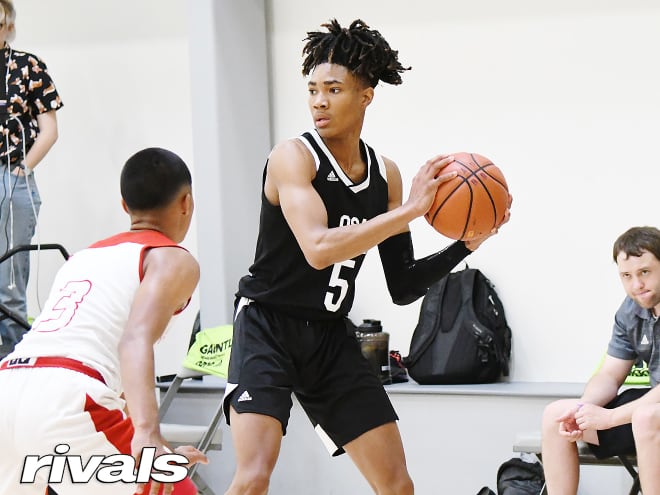 Merry Christmas to you all! This week, we present a few extra nuggets from the recruiting world in Wednesday's Leftovers. We take a look at Kansas' potential 2021 class, Bryan Antoine's return to Villanova, where UConn goes next in adding to its roster and three underappreciated top 100 recruits.
2020 Rankings: Rivals150 | Team | Position
2021 Rankings: Rivals150 | Position
*****
Three primary names to know for Kansas in the 2021 class are Hunter Sallis, Kendall Brown and Harrison Ingram. TheJayhawks are fairly new to the recruitment of Sallis but KU was the first blueblood to offer, and I wouldn't be surprised if they made him a priority in the coming months. The in-state programs, Creighton and Nebraska, have done a good job with him, as have Iowa State and Oregon.
Brown, a top 20 wing, just visited Lawrence two weeks ago, and it coincided with his brother - Milwaukee's Courtney Brown - playing the Jayhawks. Bill Self and his staff have done a great job of targeting the do-it-all forward early in the process and his move to Sunrise Christian Academy does not hurt their chances.
Lastly, while they are playing catch-up, don't underestimate Kansas' chances with Harrison Ingram. He played for the same travel program as Lattrell Jossell and Jalen Wilson, and KU has begun to pick up its attention toward the five-star playmaker. Purdue, Stanford and Texas Tech are also in the mix, but the Jayhawks may find traction.
Khristian Lander, Jaden Hardy, Alex Tchikou and Frank Anselem are worth monitoring, too.
*****
I don't see it happening. That is not to say that his talent is not that of an NBA-type of guy, but he won't be selected high in the NBA Draft based off of his high school rankings and physical tangibles, unlike James Wiseman.
It would be in Antoine's best interests to return to the Main Line for at least another season. He was one of Jay Wright's top recruiting wins and should flourish when he does regain a clean bill of health rather than risk signing a non-guaranteed contract with - or being drafted by - an NBA team that might not have his long-term interests in mind.
Rather, Antoine returning for his sophomore season gives Villanova a mighty talent in the backcourt that can complete a plethora of tasks. He is just the type that, when healthy, can be relied upon in defeating the best of teams, which would then correlate with a much better draft selection when he decides to leave school.
*****
UConn will likely wait things out and see where things stand once the season ends. The Huskies answered two of their most pressing questions this fall when they signed elite athlete Andre Jackson and high-upside post Javonte Brown-Ferguson. Maybe they strike with Cliff Omoruyi or head down the grad-transfer or traditional transfer path, but look for the Huskies to focus more of their attention on the 2021 class.
In the backcourt, UConn just offered Rahsool Diggins,one of the best lead guards in his class along the East Coast. DePaul and Virginia Tech are in a good spot with the four-star. The Huskies also have begun to prioritize the DMV of late as they've jumped into the recruitments of Trevor Keels, Quincy Allen and Julian Reese this fall. In the frontcourt, Adama Sanogo, Franck Kepnang, Micawber Etienne and Tre Patterson are the names to follow.
*****
My best advice: Know exactly what you're getting into. Whether it is the staff's coaching style or the current and future players on the roster or the players leaving the program via the transfer route or a coach's ability to develop his talent. For the most part, the constant theme throughout is the coach.
At the end of the day - at the high-major level, at least - a prospect is going to select a school not for what the college can offer but what the basketball program and the head coach can provide. Throughout the recruiting process, a prospect is going to be told exactly what he wants to hear. Ask the difficult questions. Investigate every corner of the program and make sure you're fully educated. If you can understand exactly what you're walking into, then a transfer is less likely.
It is not always about the lies being told throughout the recruiting process, but also the accountability and discipline - or lack thereof. Buy in for the long haul. There will be tough moments. Fighting through them and comprehending why you selected the school in the first place will go a long way toward a happy, four-year marriage between program and recruit.
Three come to mind:
Ryan Kalkbrenner: Creighton has been missing a shot-blocking center that can run the floor and make shots. I am not sure that Greg McDermott could have even created a better 5-man for his system than the 7-footer. He will thrive in Omaha.

Jaylin Williams: Sticking with the center position, Williams is going to be an absolute stud in Fayetteville. He has drawn rave reviews after his fall workouts and should immediately stabilize Arkansas' frontline next season.
Hassan Diarra: Texas A&M is struggling this season, but let's give Buzz Williams some time. He has a solid freshman core, led by Andre Gordon and Emanuel Miller, along with an injured Cashius McNeilly. Adding Diarra, a blue-collared workhorse to the group, should only raise Texas A&M's ceiling for success next year and beyond.