Wednesday in Vegas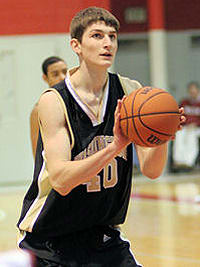 For the game, Jackson had 31 points, eight rebounds, six steals and five assists. Durham wasn't far behind with his 25 points.
At a glance, some will dismiss Jackson because of his size. But if there was ever a 5-foot-10 player who played more like 6-foot-3, it is Jackson. For example, on one possession he posted his man up in the elbow area, squared up with a strong pivot and then exploded to the basket with one dribble and ended the play with a dunk off two feet over his man. His six steals also attest to his explosive quickness and uncanny anticipation of plays. He takes contact well and can stroke the ball from behind the arc as well as knock down high degree of difficulty shots on the move. One of his most outstanding traits is the way he can zigzag directions on the move.
A handful of schools have already taken notices of this future five-star prospect. Ole Miss, Tennessee and Memphis have already offered, and UConn is showing strong interest as well.
His teammate Durham, isn't as dynamic athlete as Jackson, but he has better size and strength at 6-foot-1. A high-major prospect, Durham knocked down four three-pointers in the game.
In other 16-Under action from the adidas Super 64, Indiana Elite squeezed by the Nashville Celtics with an overtime win.
Prosser and Van Treese both had six points a piece, and Van Treese had a couple highly impressive plays off the dribble in the open court.
A high major prospect in our estimation, Washburn claims offers from Utah, LSU, Penn State and Oakland to go along with interest from Indiana and Vanderbilt. Washburn said Utah is currently his favorite, and he would like to take an official visit to Utah, Penn State and Vanderbilt in the fall.
A dynamic talent who is making a push to be the top point guard in the 2009 class, Wall has a host of schools coming after him including Ohio State, Indiana, Virginia, Wake Forest, Virginia Tech, Oklahoma State (offer), Miami (offer), Kansas and Kentucky (offer).
[rl]