Watts' Southeastern Hoops Report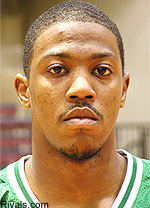 With the summer AAU schedule kicking into full gear, several Southern players have already shown RivalsHoops.com that they are much improved from last season and as a result they have seen their stock rise.
Following are several players who have played well early in the AAU season:
Davis, 6-foot-7 1/4, 337-pounds, has shown impressive strength and surprising quickness while posting up on the block. He does a great job of sticking his paw out, sealing off his defender and finishing strong. In one contest, he single handily fouled out St. John commitment Jermaine Bell.
LSU is the early leader for Davis and will be hard to beat. Davis is also considering Auburn, Florida State, Louisville, Tulane with many others showing interest in the two sport star.
Davis recently turned 16 years old and is still growing. He preps LSU Lab School in Baton Rouge, Louisiana
As might be expected Dickey, 6-foot-9, 255-pounds, is a major glass eater and a hard worker on both ends of the floor.
Clemson, Duke, Florida, Kentucky, Maryland, North Carolina and South Carolina are schools showing interest. Dickey preps at Marlboro County High School in Bennettsville, South Carolina.
Hill proved to be a mobile center that created big problems for anyone who tried to score in the paint. Offensively, Hill is still refining his game but he did run the floor well and works hard on the block. Strength and weight are two things he will need to improve on to reach his full potential in the SEC. Hill preps at Branson High School in Missouri.
Kaun, 6-foot-11, 245-pounds, showed a variety of low posts moves and a nice 10-foot jump shot. Defensively, he did a great job controlling the boards and proved to be an effective shot blocker.
Kaun is another big man with loads of potential. He will have his choice of schools with Duke, Georgia Tech, Miami, Michigan, Michigan State and Ohio State making early visits. Kaun preps at Florida Air Academy in Melbourne, Florida.
Rich led Team Florida deep into the Kingwood Classic by showing a wide arsenal on the offensive end of the floor.
Last year, the knock on Rich, 6-foot-4, 190-pounds, was his lack of consistent outside shooting but if his early summer play is any indication, not only has he solved that problem, but has become a complete offensive player by doing so. On several occasions he finished the break with an athletic dunk and he also knocked down his mid-range jumper.
Rich currently lists Alabama, Cincinnati, Connecticut, Florida, Georgia Tech, Kentucky, Oklahoma and Texas among his favorites. Rich preps Dr. Phillips High School in Orlando, Florida.
Steele, 6-foot-2, 190-pounds, has a nice jump shot but penetration is where he really makes things happen with nice passes or strong finishes in traffic.
Alabama is the clear leader for Steele with Auburn and Vanderbilt also receiving serious consideration. Steele preps at John Carroll High School in Birmingham, Alabama.
In two games at the Kingwood Classis he knocked down the three ball consistently as well as helping out his YOMCA Memphis team bring the ball up the floor on several occasions. He also showcased his defensive prowess by playing good on ball defense and blocking shots.
Williams has a natural feel for the game and his versatility, size and unselfish play will make him a hot commodity among college recruiters.
Memphis and Arkansas among others are showing early interest. Williams preps at Hamilton High School in Memphis, Tennessee.