Watts is total package says coach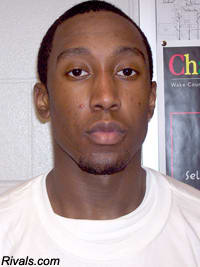 Who is left? Who?
College coaches are in the hard scramble, looking from coast-to-coast for players.
Is he good enough? Will he qualify? Is he worth the trip to see?
All of these types of questions are being asked about the best of the rest. For the most part, the answers are hard to come by as players are on the high-major bubble and most likely on the lower end of talent.
It seems like most of the top unsigned players that are good enough to play at the highest level are still trying to get it all together in the classroom.
According to Durham (N.C.) Jordan head coach Kim Annas,
Justin Watts
is certainly good enough and is certainly qualified. In fact, Annas says the 6-foot-4, 200-pound guard makes perfect sense down the home stretch.
"He's a great person with excellent character. You aren't taking a chance with him," Annas said. "He's going to well in class and outside of the gym. He's as good as they come and be a great asset. I tell coaches that he's the total package because he can dribble, pass and shoot and give you no problems off the court and excel in the classroom. You don't have to worry about him."
That is high praise for the three-star guard, who is averaging 24 points and nine rebounds. Annas said Watts is still improving, too.
"He has a very high ceiling. Unlike a lot of kids that are held back a year or two that are peaking, Justin hasn't hit his peak yet. He's still developing," the coach said.
"For us, he can play any position on the court but his natural position is the two, three position and he will play that in college. I think he can play some one in college, too. He has great court vision and he's a good ball-handler. I see him playing the two, three in college."
The recruiters have taken notice. Penn State was at Jordan's last game. UNC Charlotte and Michigan were there the game before, Annas said.
"Recruiting is constant. There is always somebody coming to watch," Annas said. "Every time we are playing, someone is there to watch."
Watts officially visited Temple in the fall and unofficially visited North Carolina "numerous times," Annas said, as well as Clemson and Virginia.
"He's been invited to visit Penn State, Baylor and Michigan and there are other schools like Missouri and Texas that have talked about visiting," Annas said. "He only has three or four visits left.
"He's looking for the best offer that fits him and one that fits him both athletically and academically. He's taking it very seriously and at the same time he's taking it very selectively. He wants to go to a place where he can excel academically and athletically. That's been his approach all along."
Watts, who holds a 3.4 grade point average and has proven himself in AP classes, doesn't have a favorite at this point.
"He likes a lot of places. I think he's looking at the overall picture and seeing is there a quality education he can get while he's there. At the same time, he is asking himself if the coach will be there when he's there and what has the coach done when he's there and whether or not he's developed a good program. Is there a chance to come in and play and are their guys graduating? Education is very important to him just like basketball is. He wants to be sure he can get the best of both worlds."