Wall talks visits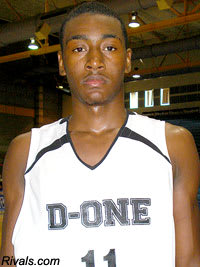 After his visit to Baylor this weekend,
John Wall
will have two more official visits left at his disposal. One ACC school is on tap to receive one of those visits.
Miami might not be in the middle of the John Wall recruiting discussions, but the Hurricanes will be in the middle of it at least one weekend this spring.
"When I get back from my Baylor visit, I'll figure out what I'm going to do with my other two visits," said Wall, who visited Kansas and Memphis this fall. "I definitely am planning on visiting Miami."
Still in communication with Duke and North Carolina State, Wall, who is from Raleigh (N.C.) Word of God Christian Academy, is not yet sure how he will handle visits to those schools.
It does look like Oregon, the seventh school in contention, is no longer in contention.
"I doubt I'll visit Oregon," Wall said. "I haven't heard from them in quite a while."
Wall, who left this afternoon for Waco will stay there until Saturday, catching Baylor's last regular season game which is against Nebraska.
There has been speculation that Wall will commit to Baylor on the visit, but he is adamant that won't be the case.
"Sometimes when I see others committing, I think for a second that I want to get it over with," he said. "But it is important that I wait, so I can see which players are coming and going and what is happening with the coaches.
"I'm sure I'm not going to commit this weekend."
Wall did pinpoint the Jordan Brand All Star Game, played April 18, as a likely time for him to announce his college decision.
Wall, a 6-foot-4, 184-pound point guard, is the No. 1 ranked prospect in the Rivals150.