Wall talk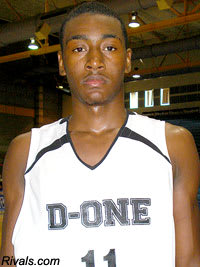 On Wednesday, the last day of the spring signing period,
John Wall
plans to sign a Letter of Intent with Kentucky. Coming to this decision hasn't been easy for Wall, but the lure of playing for John Calipari won him over in the end.
"It's been tough," said Wall, a 6-foot-4, 184-pound point guard from Raleigh (N.C.) Word of God Christian Academy. "Coach Haith has been great. He did a great job recruiting me. And then the two coaches at Duke and Florida came in late, but made up a lot of ground in recruiting me. But mainly, it was Kentucky and Miami.
"In the end, I just felt I wanted to play for Coach Cal. Coaches give different visions of what they can do for you when they talk to you. And all of those are impressive, but my long relationship with Coach Cal and what he can do for me in his program was the main thing."
There was concern in Wall's camp that Kentucky had already signed a quality point guard in five-star prospect
Eric Bledsoe
. Regardless of the fact that the Dribble Drive offense can accommodate two primary ball handlers, Wall actually relishes the opportunity to compete for his position.
"Being able to play against Eric (Bledsoe) is a big plus," he said. "I told Brian and my mom that I've always had to fight for my position. That's what I had to do when I first played for Brian. I'm used to fighting. It's another challenge for me to come to Kentucky and fight for my position."
Admitting that he took about as long as he could to make a decision, Wall acknowledged that his personal confusion and his desire to have everyone around him on the same page contributed to the lengthy process.
"It took a while for both reasons," he said. "I liked Memphis when Coach Cal was there, but the situation really opened up when he went to Kentucky. I had to look at the situation there and the people there. Plus I loved the other coaches and what they had to say to me.
"It came down to where my heart was, though. Every time I talked about schools, Coach Cal was the first thing that I always talked about."