Wall schedules visit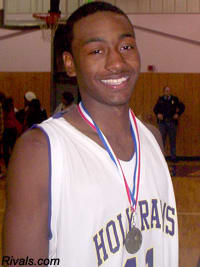 After suffering a heartbreaking loss in the finals of the state tournament,
John Wall
is quickly transitioning into the final stages of his recruitment.
Wall, the No. 1 ranked prospect in the Rivals150, confirmed with Rivals.com that he will visit Baylor this weekend.
Wall has already officially visited Memphis and Kansas in the fall. Local schools North Carolina State and Duke are also in the mix. And there is a chance Miami and Oregon could receive visits.
Baylor is considered to be in the driver's seat to land Wall, a 6-foot-4, 184-pound point guard out of Raleigh (N.C.) Word of God Christian Academy, since the Baylor basketball program hired his travel team coach Dwon Clifton as its Director of Player Development.
John Wall scouting report:
Blazingly fast with the basketball, Wall is an impeccable ball handler with court savvy. The right hander has a penchant for beating defenders with his left hand and can then counter with a terrific left to right behind the back dribble. Finding teammates on the move is his forte, but he is also an excellent finisher at the rim. His jumper is still a work in progress, but it is good enough to keep the defense honest.