Wall ready to see more teams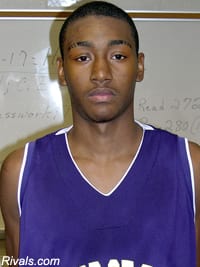 With his season now over and with a state championship in hand,
John Wall
is taking advantage of the down time and getting out to see some of the schools that are looking at him.
The 6-foot-3, 175-pound point guard from Word of God in Raleigh, N.C. is one of the most recruited players in the class of 2009 and he is doing his best to fully research everyone on his long and expansive list.
Wall, the top point guard in the nation in his class, made the cross-country visit to Oregon for the final home game of the year against Arizona.
"I saw a good game there," Wall said. "It's a good school out there. The crowd was right over you. They get into it. A lot of people didn't think I'd go out there. Their assistant coach sent me a lot of information to look over and I thought it would be a good school for me to go and look at. I liked it a lot."
Wall's list of campuses that he has seen unofficially include Oklahoma, Oklahoma State, Kentucky, NC State, North Carolina and Duke.
"This is when you can really see what schools are made of," Wall said of his visits and the current conference and national tournament period.
With a long list that also includes Texas, Tennessee, Virginia, Southern Cal, Clemson, Florida, Georgia Tech, Indiana ("it is hard to say with them because they lost their coach"), Kansas, Miami, St. John's and Virginia Tech, Wall said he wants to come up with a more manageable list.
"I thought about that a lot. I want another week or two to get a look at how the teams play in the conference tournaments and the NCAA tournament," Wall said. "I want to see some more schools, too. It's going to be hard this time of year because the teams are still playing. I'll probably see some schools when we go to all of these AAU tournaments. I am getting close to narrowing it down. It's a hard process but it needs to be done.
"Different schools are losing their coaches and coaches are switching. You want to watch it all."
Wall said he'll consistently consider NC State because "they are in the backyard and they are always with me." Memphis is "good. I talk to them a lot." Oregon is in the mix. "A lot of coaches are in there. It's hard to say who really has been the most consistent."
He was consistent on the hardwood this season, helping Word of God win a NCISAA state championship.
"I think the season went really well actually. At the beginning of the season we had some difficulties with our chemistry. After a couple of games we decided that if we wanted to win a state championship and be one of the top teams in the nation than we needed to come together. We had to come together as a family," Wall said.
"I think I spring boarded the summer into my season really well. I knew I could score so this year I wanted to focus on getting everyone around me better. I wanted to become a better leader. I feel like I've been able to do that by listening to my high school coach and he got me to be a better vocal leader, a better director of our team and a better player. I think I did a good job at that."
Wall will play with D1 Sports and moonlight with the South Carolina Ravens for some selected events.