Virginia duo ready to make first official visit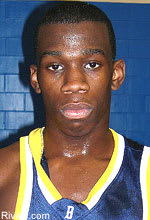 Good friends
Stefan Welsh
and
Duke Crews
are always together. The two Virginia natives hang out on Friday nights. They practice together with the Boo Williams Summer League team. Now, the two class of 2006 prospects will hit the road for their first official visit.
Welsh, the No. 58 rated junior in the nation, and Crews, a bouncy prospect that will dot several must-see lists this spring and summer, will officially visit Xavier on April 15.
The two have long favored Sean Miller's program and Welsh said there is a chance the two could come home as future Xavier players.
"I just want to see what it's like there before I do anything," Welsh said. "I want to see for myself what it's like there. If it's cool and if I feel like it's the right place for me, I might (commit)."
Crews said he's looking forward to the trip and says the Musketeers are the pairs top option early on.
"It's as good as chance as any but at the same time just to come back and immediately make a decision based on the fact that there are other schools," Crews said. "I want to be fair to the other schools, basically testing the waters out. I want to give everybody the fair chance. They are our leader though."
Welsh, a 6-foot-3 guard from Woodside High School, and Crews, a 6-foot-7 forward from Bethel High School will hit the court with the loaded BWSL team at the Boo Williams tournament on April 8. Rivals.com will be on hand for the event.