Vegas: Top Friday performers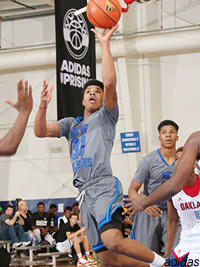 Fab 48 on Friday, but the three best players we saw today came from guards out
of Louisiana. The Bayou State natives weren't alone as several talented
prospects around the country impressed coaches and scouts.
played on Friday afternoon. The four-star guard finished with 27 points and
seven assists in a tough loss to the Atlanta Celtics, but did everything he
could to keep his New Orleans Elite team alive. Peters has some swagger to his
game too, and isn't afraid to do some talking after he does his work. He'll be a
really good player in the SEC.
but the stud 2018 guard showed why some think he just might be the best guard in
his class. With great size at 6-foot-5, he's got a strong frame and can bully
his way to the rim whenever he wants. He's got a super tight handle and shake
defenders loose with ease as well. What made him impossible to guard on Friday
have put in offers already.
once he got going in the second half against California Supreme, he was a tough
man to check. Long and lanky at 6-foot-5, the four-star guard has a quick first
step to get him going towards the rim and is a crafty finisher in traffic.
of this travel season. The 6-foot-5 Mississippi native was an unknown to most
coming into the travel season, but his ability to score the ball and play both
guard spots has a lot of coaches excited about him. Murray State was the first
very best big men in the country. The five-star post player is dominant in the
paint at both ends.
around him, but it isn't hard to see why coaches are so excited about him. He's
a big time athlete and catches lobs at the rim with little problem. He's a
one, and both were on hand to watch him on Friday afternoon.
upside is sky-high. The California native has great hands and works hard for the
ball on the block. His post moves look great, but he struggled to finish on
to check him out.
out his game well and become a high-level scorer to go along with being very
good athlete. His perimeter stroke looks as good as it ever has and it has made
him a much tougher man to guard.
loaded Atlanta Celtics team, but the 6-foot guard is productive in the playing
time he does get. He's a very good shooter and a high level athlete. Butler,
coaches following him on Friday. Providence recently stepped with an offer.
guards in the high school ranks that look like Langford. He's strong as they
come and a very good athlete. All that combined with a great skill-set and a
very happy man coaching him at the next level.