Vegas day two breakdown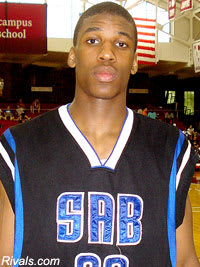 A high energy player with a load of athleticism, Robinson racked up a solid double/double of 22 points and 12 rebounds. He pursued balls outside of his area and left little doubt who would come down with the ball when he got his hands on it. Offensively, Robinson wasn't utilized a great deal more than as a rebounder, but he did finish with authority and scored on some powerful drives to the basket.
Head coaches from West Virginia, Maryland, Georgia, Virginia, South Florida, Miami, Boston College, Xavier, Pittsburgh and Kansas along with assistants from Texas, Oklahoma and Duke were all in the gym.
Robinson, who only emerged as a high major priority during this travel circuit, doesn't have a formal school list, but listed Kansas, Duke, Memphis, Pittsburgh, Virginia, Providence, South Florida, Maryland, Louisville, Virginia Tech, Georgia, Kentucky, George Mason, Georgetown and George Washington. All have offered except for Duke.
After July Robinson plans to trim his list, and he said he is likely to wait till the spring to make a decision.
Tarou is just getting a gauge on his recruitment but said that New Mexico State, Villanova, Georgetown, UCLA, DePaul and Virginia Tech are on him the hardest.
After the game Franklin revealed a top six of Michigan State, Oklahoma, Oklahoma State, Texas A&M, Arizona and Indiana.
Also playing a strong game for Team Texas was point guard Vertrail Vaughn. He scored 18 points while also distributing the ball off his slashing drives. With an offer from Colorado, Vaughn also listed George Mason, Virginia, Michigan, San Diego, Colorado State, Oklahoma and Iowa. Vaughn considers George Mason and Virginia his top schools.
After the game Carter admitted that UMass is in a strong position to land him after hiring his brother as an assistant coach, but Carter also has Tennessee, Memphis, Kentucky and UAB on his list. Carter claims offers from all the schools.
Presently Wade has offers from Ole Miss, Memphis and Baylor with interest from Missouri and Tennessee. With the SEC being his favorite conference, Wade considers Ole Miss as his favorite.
On the recruiting front Bright has an offer from Eastern Washington and is getting interest from Oregon State, Stanford, California and Washington State.