Vegas Day 1: Jones excels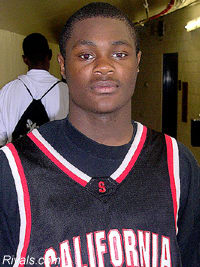 The lefty point guard who is headed to Pittsburgh was sharp in his team's win over Team Odom. He passed the ball with timing and made his shots off penetration. Getting stronger with the basketball against smaller and quicker defenders and improving the consistency of his outside shot will help Epps have a bigger impact in the Big East.
His length, athleticism and active motor as a three man immediately grab your attention. Still a work in progress skill wise, Thomas does have the foundation and feel for the game to make him an awful attractive high major prospect.
In a hard-fought win over the DC Assault, Franklin struggled handling the basketball against the DC Assault pressure, but that didn't stop him from doing what he does best which is knock down shots. He led his squad with 20 points.
Pelle looks the part as a long athlete who has flashes where he will block a shot and have a spectacular dunk off a rebound. The question is if he has the passion for the game and work ethic to develop his body and skill game to the point where he can help a high major team win games.
Zeiglar, a four-star multipurpose wing, led Team Detroit in win over the Dallas Mustangs with 19 points.
White played with bounce and confidence while knocking down shots. The 6-foot-2 shooting guard played like a quality mid-major prospect.
"Situation wise it is a great school, and Harvard has coaches who have been at big time schools," said Howard. "I love to help turn the program around."