VCU lands local Rivals150 guard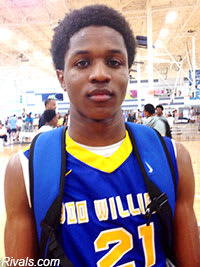 "It just felt like the right thing to do," Williams told Rivals.com. "The situation couldn't get any better than VCU."
Currently ranked No. 124 in the 2015 Rivals150, Williams is likely moving up when the rankings get updated next week. Not only can he shoot with great range, he is a crafty playmaker and has the defensive ability to fit right into VCU's "HAVOC" style.
Overall, Williams has a high basketball IQ and hopes to bring that to the table.
"I don't think they are lacking it but making the right play," said Williams when asked what he can do at VCU. "I don't think (that part of my game) gets enough credit as it should. Not just in my game, but everyone's (at VCU)."
With his commitment out of the way, Williams is looking forward to focusing on his senior year. Also, VCU has once again proved that they can not only play, but recruit with the big boys.
"It feels pretty good to be done," said Williams. "I'm looking forward to my family being able to see me play."

[rl]