Vaughn remains indecisive about future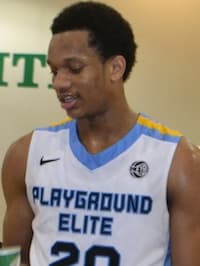 The top shooting guard in the country,
Rashad Vaughn
isn't satisfied with his progress.
At the LeBron James Skills Academy, the 6-foot-5 rising senior from Minneapolis -- who ranks No. 7 overall in the class of 2014 -- is trying to show off a more well-rounded game.
"The big thing with my game is that I'm maturing more and becoming more intelligent with my game," Vaughn told Rivals.com. "I'm being more patient and finding new ways to score. The things that I'm working on is everything really. I'm working most on my handles and my shot selection and being smart with my decisions."
More specifically, Vaughn is learning not to coast or rely too much on his natural ability.
"I need to work on my motor a lot and not take plays off," he said. "That's what I'm really working on and trying to go hard on every play."
Given his lofty status and the attention he's getting from top college programs, Vaughn always takes the court with a target on his back. There are also many questions about what he'll do.
"There's always pressure but I don't let it get to me," he said. "I just go out there and try to give it my all because that's all I can do.
"A lot of people ask me about my decision but that comes with it. You have to enjoy it until you make your decision."
Among the schools that Vaughn feels are putting the heat on him are
UCLA
,
Minnesota
,
Iowa State
,
Kentucky
,
North Carolina
and
Baylor
, but he says that he's really not focusing much on school. He knows he will have to get more serious about picking a college after the summer ends and will do so once he gets some free time.
"Whenever I get a chance really to sit and focus on it," said Vaughn of when he'll lock in a list and look to set up visits. "I need to be able to sit down with my family and stuff and really talk about it."

Click
Here
to view this Link.
[rl]