USA U18 trials: session three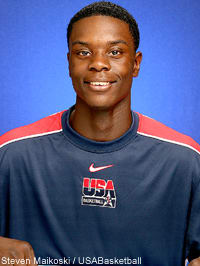 WASHINGTON, D.C.
- It took
Lance Stephenson
a little while to get untracked at the USA Basketball U18 National Team Trials, but by the third session Stephenson found his stride.
Implementing more of a streamlined physical approach to the game, Stephenson was simply the dominant force on the court Wednesday night. He bullied defenders with slashing drives to the basket and crashed the boards for rebounds. With less dribbles he made more positive things happen for his scrimmage squad, and in the process found the touch on his jumper.
Stephenson was the first to admit that he had to go through an adjustment period.
"I'm trying to get used to not getting the ball like I'm used to getting it," said Stephenson. "Now when I get the ball I'm trying to finish the play quicker."
He also rejected recent talk that he might take some other route than attending college after next year.
"I'm more focused on school and getting an education. I'm more about learning new stuff and then go to the NBA. Skipping college and going to Europe is something you think about as a last resort when your messing up in school, but I'm doing well in school."
St. John's, Texas, North Carolina and Duke are still in the running to land Stephenson, but three other schools standout at the top of his list.
"Kansas, Memphis and Tennessee, those are the three schools I'm looking at really hard," said Stephenson, who is planning to wait until the spring before committing to a college.
With the trials, practices and then the World Games in Argentina conflicting with the shoe company camps, many prospects declined invitations to play for USA Basketball. Stephenson, however, is hungry for a new experience and excited about playing for his country.
"I'm more about helping the United States," he said. "I'm not about sneakers or the latest Lebron camp jersey. I've already done the Lebron camp and the other camps, so this is a new experience for me."
One of the other uncommitted participants in the USA U18 trials is
Dominic Cheek
. Like Stephenson, Cheek is far from ready to make a decision about where he will play college basketball.
"I don't really have a school list because new schools keep coming in," said Cheek. "After this, I'll narrow things down to something like ten schools."
Cheek did note, however, that Villanova and Tennessee are recruiting him the hardest. He also revealed the two most important factors for him in choosing a school.
"I want to go to a school that has a chance to win the national championship and play for a coach who can get me to the next level," he said.
Notes from session three
It looks like the players are beginning to adjust to the international basketball which is a tad bit bigger than an American basketball and much slicker.
Mason Plumlee
made a statement in session two with his shot blocking ability, and in session three he was all over the offensive glass demonstrating an ability to rebound outside of his area.
Leslie McDonald
has had success finishing at the rim in transition throughout the trials, but he struggled defensively on Wednesday, giving up a number of drives to the basket.
Dominic Cheek
has a gift for getting the ball in the basket, but like McDonald, his defense has been sub par.
Continuing with the defensive theme,
Ryan Kelly
is a nightmare to defend with his array of offensive moves, but he will have to bulk up before he gets to college in order to successfully defend in the low post.
On the other hand, point guards
Kemba Walker
and
Maalik Wayns
have impressed with their ability to pressure the basketball.
Travis Releford
is a college ready guard with his physical strength and basketball IQ. He defends, rebounds, takes care of the basketball and knows when to take the ball to the basket.