USA Basketball Trials: Brand name association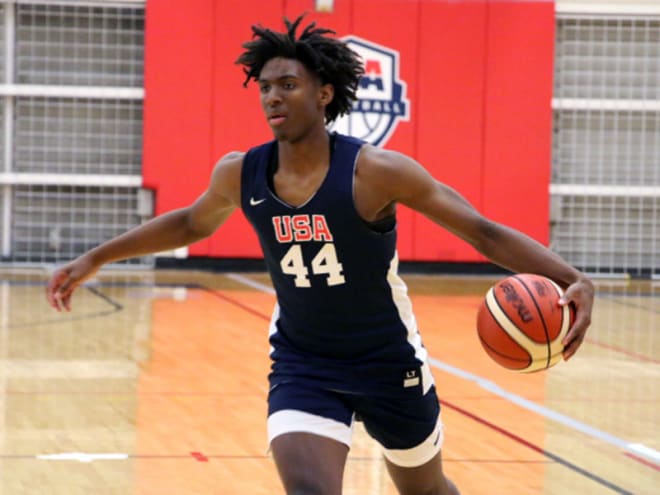 COLORADO SPRINGS, Colo. – The USA Basketball under-18 training camp revealed that the future of the red, white and blue remains extremely bright on the hardwood. In light of the recent push for college players to be able to profit off of their own likeness, we've thought a step ahead and paired the top standouts with the respective brands that they would best represent if such rules were to go into effect.
MORE: Elite teams continue to chase five-star Josiah James
STUBHUB
Maxey became the heartbeat of the under-18 camp. While we are lucky enough to receive the credentials to attend these kinds of events, Maxey is one of the few that we would pay out of our own pocket to go and see. Maxey got to the basket whenever he wanted, created for others, knocked down open jumpers, defended his position and, as always, brought his outgoing, charismatic personality to the court.

MEN'S WEARHOUSE
For an aspiring professional that wants to make a good first impression at a future employer, where does one go to look the part? Men's Wearhouse seems to be a go-to for the proper attire, which makes Anthony's persona the ideal marriage between business and prospect.

Anthony walks around like he belongs, which is to say it is not arrogance but rather a sense of, I'm good, I'm here to ball, and, more importantly, beat you. Anthony did just that in Colorado Springs as his mastery of the high ball screen, nifty pull-up game and floor senses were all up to par. It would be a giant shock if he does not make the final under-18 roster as Anthony has cemented his standing as the best guard prospect in the 2019 class.
VALVOLINE
The best motor in camp, bar none, was that under the hood of Robinson-Earl. Sure, he has always been known for his polished 15-foot-and-in skill set, a game that was on full display in Colorado and should have no issues translating to the college level, but what stood out most was just hard he played. Wired to compete and with a strong, college ready body, Robinson-Earl got his hands on a ton of loose balls and his well-oiled motor enabled for him to secure a number of out-of-area weakside boards.
WINDEX
One of the top big man prospects nationally, Bacot did not lack for production in Colorado. It began and ended on the glass as Bacot was arguably the best rebounder throughout the first few days of training camp sessions.

His hands are exquisite and so are his instincts and understanding of where to be when it comes to denying second chance opportunities for his opposition. Bacot is lighter of foot, too, as he has lost over 10 pounds since the beginning of spring, a transformation that definitely helped his cause. Oklahoma State, Georgia, Virginia Tech, North Carolina and Duke are just a few in the hunt for the next face of the Windex brand.
MASTER LOCK
Known for his scoring binges, it was refreshing to see Illinois' most recent recruiting win, Dosunmu, improve on his shooting. A lethal finisher in the lane, he has developed his stroke in the appropriate manner, but what he really prided himself on was his defense, especially in locking up his opponent over the half court stripe.

Where others were just trying to fit in and enjoy the camaraderie of the camp, Dosunmu had his game face on throughout. His length, sneaky quickness, focus and twitchy hands made getting the ball over half court an unbearable task for those facing him. His scoring won't be an issue in Champaign next season but Dosunmu's underappreciated defensive prowess cannot be swept under the rug much longer making him the perfect candidate to be Master Lock's inaugural college prospect representative.
SONY BOOMBOX
What a throwback. Whether AC/DC, the Backstreet Boys or 112 was more to your liking, Sony Boombox was your go-to. If the music player was ready to make its comeback, what better prospect to eye than Horton-Tucker? While the Iowa State signee didn't make the first wave of cuts, he should feel more than satisfied for all that he accomplished in Colorado. Capable of scoring in the post or on the perimeter, relied upon as a primary playmaker or for his abilities to win the 50-50 plays, Horton-Tucker is primed for the national spotlight and will be lauded for his throwback abilities in Ames.
LASIK PLUS
Transforming from nearsighted or farsighted to 20-20 vision in a blink of an eye, no pun intended, that's what it was like for everyone assembled in Colorado in getting their first looks at Carton.

For those who have seen him in the past, it was nothing new with Carton, a competitive, bust-my-butt-each-possession type of guard. However, for those just getting a first glimpse of him, the immediate clarity that they were seeing was of one of the best guards at the high school level. Carton still has one more cut to make in solidifying his spot within the roster's final 12, but his tremendous weekend backed his claim further that he is an elite guard prospect in the 2019 class.
WALL STREET JOURNAL
If you're looking for help in buying a stock at a cheap price before it soars through the roof, oftentimes, the Wall Street Journal is the way to go. If McDaniels was a stock, you would want to submit a buy order now.

While he didn't make the first round of cuts, the upside with McDaniels is exponential. Standing in at 6-foot-9 and with a 6-foot-11 wingspan, but weighing in under 180 pounds, it isn't difficult to see that McDaniels needs some time to fill out properly. However, he has already inspired top national pundits and heavy hitting coaches to salivating over his potential. McDaniels showed deft touch to 20 feet, intriguing abilities as a three-position defender and a sneaky tough side about him that makes one believe that he could ultimately finish out as the top prospect in his class.
AMAZON ECHO
Need someone to talk to? Need an answer? Amazon Echo can take care of all your needs, and Hepa seems to have all the answers on the court. Slated to enroll at Texas in the coming weeks, Shaka Smart has himself a winning ballplayer that does whatever it takes for his team to succeed.

On Thursday evening, the first session at the under-18 trials, the playing floor was like a library; kids were afraid to speak up, minus Hepa, leaving Bill Self and his coaching staff wanted more from the participants. The Alaskan born forward called out screens like it was game seven of the NBA Finals, applauded his newfound teammates whenever something went their way and celebrated the smallest of wins throughout drills.

Hepa is a super skilled and polished small ball power forward that will leave an immediate imprint on Texas and his capacity to talk and complete whatever task asked from him was magnified in Colorado.