USA Basketball: Top-ranked Vernon Carey nears decision with visits set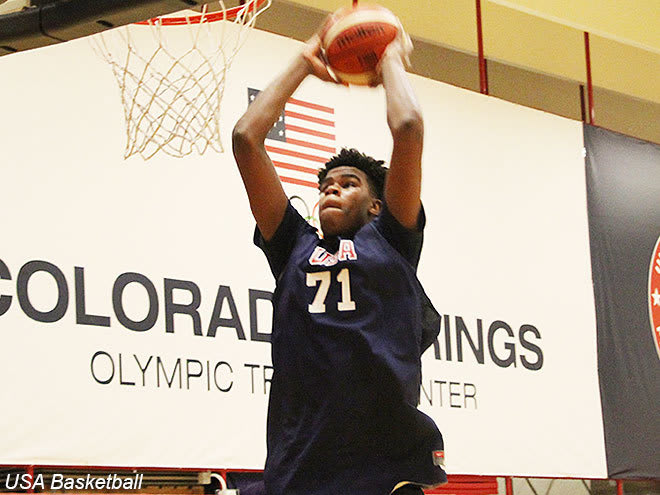 COLORADO SPRINGS, Colo. – The recruitment of Vernon Carey is coming down the stretch run as all five of his finalists prepare to host the top ranked prospect in the coming weeks. He discussed in detail what each program is selling and when a commitment might take place.
Competing at the United States Basketball Training Camp this weekend, Carey has remained focused on a group of five schools consisting of Miami, Michigan State, Duke, Kentucky and UNC. In doing so, he recapped out the past few weeks and months have gone on the recruiting front. "Ever since I cut my list back in the summer to my top five, it has just been those five schools contacting me," he said. "It has made it a lot easier for me but it is starting to pick up a little more since coaches have been coming in the past few weeks to my school to visit me."
Carey will begin his official visit tour next week as he noted what he is looking forward to seeing at each school.
IN HIS OWN WORDS
Miami: "I just want to see how the team is looking, first of all. The guys that are going to be there and also the ones that are looking to go to the NBA Draft and really, just see who is going to stay and who is going to leave.
"Their pitch is just to be 'the guy' and that I can be the hometown hero. My parents wouldn't mind me staying close to home and it would be a lot easier for them. Plus, all of my friends would be able to come and watch me play. I just feel like it would be a lot easier for everybody. It would be important to me because those factors coming into it, it would make it a lot more fun for me."
UNC: "They are saying that I can team up with Armando (Bacot) and be kind of like a twin tower sort of things. I am supposed to visit there at the beginning of the November and see how the team is looking.
"Coach (Roy) Williams is an old school coach and I feel like their playing style helps my game and I could translate well there."
Duke: "I have been to the campus just one time but I didn't get to see it a whole lot since we were in town for the John Wall (Holiday Invitational). This will be the first time that I really get the chance to see the campus and the team but to play for a guy like Coach K, it would be a once in a lifetime experience.
"They have begun to pick things up recently with me. They are just telling me that I can be special and that he (Coach K) is the best coach to make me special. The atmosphere and the campus, along with the teammates and the brotherhood, along with the upperclassmen, they do a good job of helping the newer guys on campus."
Kentucky: "Coach Cal (John Calipari) has just said that he really wants to coach me and that I can be a go-to guy and a one-and-done there. He has just been saying that Kentucky would be the best place for me.
"I have been talking to Kahlil (Whitney) and Tyrese (Maxey) about Kentucky; we are all going their next weekend for Big Blue Madness, along with RJ (Hampton), I think. They are just saying that they have some of the best crowds in college basketball and Coach Cal and Coach (Kenny) Payne, along with the other assistants, they are all a good, collective group. Coach Cal has compared me to DeMarcus (Cousins) and Anthony Davis."
Michigan State: "I wanted to go back there to see how the team is looking this year and to see how things are going and get the chance to be with Coach (Tom) Izzo a little more. He came and visited me and we were talking about Jaren (Jackson) and Miles (Bridges) and how he developed them throughout the course of the year and how he could do the same with me. Plus, the coaches offer a family atmosphere."
WHAT'S NEXT & RIVALS' REACTION
Carey is ready to take a final look at things over the next several weeks. He will take official visits to Kentucky (October 12), Duke (October 19), Miami (October 26), and UNC (November 3). While he has already taken an official visit to Michigan State, one that took place in February, due to the new NCAA regulations in place, another is being set to the Big 10 program, a trip that will likely occur sometime in November.
From there, Carey will be ready to commit. "I want to decide after my last visit, likely a week or two after," he said. "I probably won't sign early though. I will likely commit a little after that but before the new year."
The next few weeks could be the deciding factor for where the top ranked player calls his home next year. Expect a commitment some time around late November or early December with Miami, UNC, Duke, Kentucky or Michigan State picking up one of the most talented and productive players in America.