USA Basketball Sunday: Zimmerman shines
COLORADO SPRINGS -- All weekend long, five-star senior big man Stephen Zimmerman looked like he was on a mission at the USA Basketball development camp. Sunday, he made a pretty convincing argument to be considered the event's top class of 2015's performer. But class of 2017 forward Michael Porter just may have been the biggest eye-opener of the weekend, period.
Zimmerman makes most of chance to play
Next weekend, the No. 10 player in the class of 2015 will begin a stretch where he will visit Kansas, Kentucky, UCLA and Arizona in the span of five weekends.
With that in mind, he was happy to have a weekend that was all about playing basketball. And play he did.
Every step of the way on Saturday and Sunday, Zimmerman was dominant in the post. He played above the rim, ran the floor, rebounded, blocked shots and played with a high level of energy. Over the course of four grueling workouts, Zimmerman never showed a sign of slowing down and looked like a kid who was on a mission.
As good as he was on the interior, Zimmerman got hot from the perimeter on Sunday, making him an even tougher matchup. A 6-foot-11 guy confidently burying jumpers from the international three-point line is a scary thought, and that's what he did to finish off his outstanding weekend.
There were other seniors in camp ranked higher, but based strictly on his play in Colorado Springs Zimmerman was Rivals.com's top performer from the senior class.
"I've been really focused and I just tried to have fun," Zimmerman told Rivals.com "These workouts are hard and they are long workouts, so I just try to stay focused and have fun.
"The [in-home] visits were fun, but you can only do them for so long. I did eight of them so it was kind of hard."
Porter continues to impress
Whenever a player is ranked as highly as No. 4 nationally in his class, it is obviously difficult to consider him underrated. However, based on the way five-star small forward
Michael Porter
played in Colorado Springs, he would be ranked at least No. 2 in the class of 2017 if rankings were to be redone today. And that is no disrespect to the current No. 2 and No. 3 players
Troy Brown
and
Jarred Vanderbilt
, because they both played to their ranking and were outstanding in their own right.
Porter, though, was arguably the single most impressive performer in camp regardless of class in school.
The thin and skilled wing continued to shoot the cover off the ball on Sunday, but it was his drives into the lane and above-the-rim finishing in transition that were the most eye-opening aspects of his game. There weren't many times over the two days where Porter switched over to cruise control, and he never seemed to tire.
Porter has always been considered a big-time prospect, but after his play in Colorado Springs, he has raised the bar on what he could be capable of down the road.

Currently ranked No. 25 in the class of 2017, Coleman is a speed guy who has surprising physicality given his build. His game is all about getting into the lane and making things happen for himself or others. His head is always up on his drives, and he has a tremendous feel for making a pass to whichever player is in the best scoring position. He moves his feet well defensively and doesn't lack for competitive fire.
Already committed to
Arizona State
, Howard is a skilled scorer and distributor. He is a little bit on the small side at just 5-foot-10, but he can shoot with deep range and most of all he plays fast. The ability to play at full speed without getting out of control is tough to master at such a young age, and because Howard is already strong in that regard, his hesitation and change-of-pace moves have an even greater impact.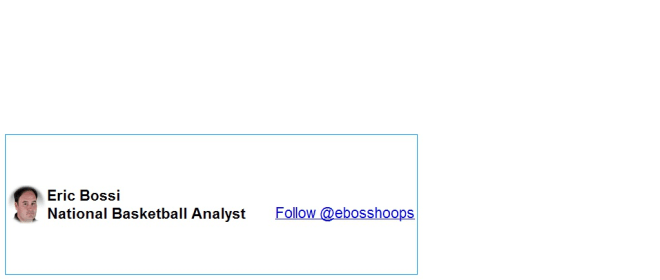 Click
Here
to view this Link.
[rl]