USA Basketball: Six remain for top-50 guard DJ Carton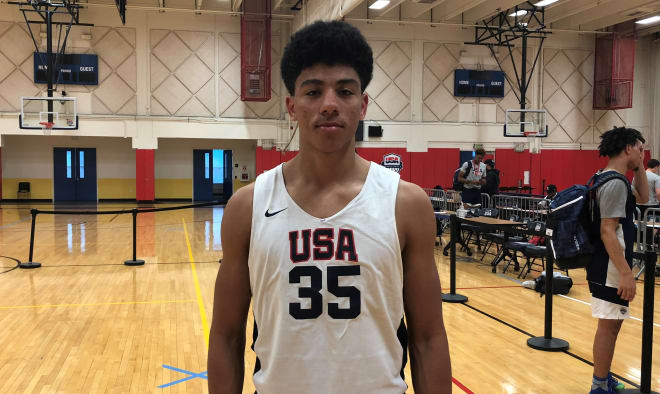 COLORADO SPRINGS, Colo. – One of the top point guard prospects in the 2019 class, DJ Carton has settled on a group of six. Following his continued ascension into the national spotlight, Rivals.com caught up with Carton in Colorado as he is vying for a spot on the final United States under-18 unit.
A 6-foot-3 guard that can be valued most for his competitiveness, scoring, athleticism and mature approach, Carton's final six include Michigan, Ohio State, Indiana, Iowa, Xavier and Marquette.
IN HIS OWN WORDS
Michigan: "I just feel like I have a great relationship with Coach (John) Beilein and Coach Yak (Luke Yaklich) and what I love about them is that they just win. I want to have a run to the national championship and I feel like Coach Beilein does a great job of developing guards and helps them get to the NBA. I definitely sit well with Michigan and have a good relationship with the entire staff and some of its players."
Ohio State: "I have a great relationship with Coach (Chris) Holtmann and Coach (Mike) Schrage and the same with some of the players from going up there for open gyms and stuff like that. I really like the campus and overall, I just had a good visit with them when I was up there earlier this year."
Indiana: "I went to the Purdue game and something special with them is the atmosphere at their place; it is just crazy. It is something else. They weren't the best team last year, but with the future that they have and how crazy that place can be. I just have a great relationship with Coach (Tom) Ostrom and Coach (Archie) Miller and they are really turning that place around."
Iowa: "I get along with their players and see them quite often and probably talk to them the most out of any other team. I talk to Joe (Weiskamp) and some of their other recruits a lot so I get along with the team and coaching staff really well and they have some guys coming in that can definitely change the culture around there. It is close to home and they mean something to me since they are my home state."
Xavier: "I feel like them making the list kind of surprised some people but Coach (Ben) Johnson, whenever he came from Minnesota to Xavier, I got along with him well and I just feel like he is a great recruiter and got to know him well. I feel like Xavier always wins in the postseason and they play fast which is where I feel most comfortable."
Marquette: "I have known them one of the longest. Coach Wojo (Steve Wojciechowski), I have a great relationship with him and with the young team that they had last year, I felt like they were really successful, have a great future and have some great shooters. They definitely need a point guard and I just have a great relationship with the players, too."
WHAT'S NEXT?
Carton, a member of the Quad City Elite 17-under unit this summer, will compete for a spot on the under-18 United States bunch that will make its cuts on Saturday evening. If he makes the final group, Carton will head to Canada on June 10 for the FIBA Under-18 Championships.
In the meantime, Carton is set to see all of his finalists.

"I have visits set with all six. Some are officials and some are unofficial visits. I have talked to them all and we are just trying to get the exact dates because of all of the camps that I am going to and I will plan from there," he said. "I want to say I am going to Michigan on June 28 but if it isn't then, it is sometime in late June. I know I am going there around then and also Indiana sometime in June, as well."
Asked upon whether a commitment could take place before July, Carton didn't seem near a decision.

"No, I don't, honestly. I don't know who my favorite is or who is leading right now," he said. "I am just enjoying the process and trying to get to know the coaches more and more. I am just going to play it out until I get that gut feeling and know where I am the most comfortable."
RIVALS' REACTION
Carton is one of the few members of the 2019 class that can change the face of a program's immediate future. A well-built guard that has shown incremental improvements in recent years, Carton is a must-get sort of recruit for each in pursuit.
Many believed that Carton was nearing a college decision, but do not look for a decision to be made until after July. A handful of visits could take place before then but currently, the group of Michigan, Ohio State, Indiana, Iowa, and Xavier remain in a dead heat for his commitment.