USA Basketball: Jackson shines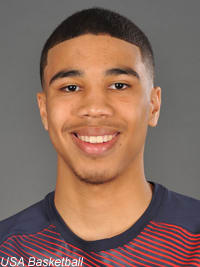 Camp kicked off on Saturday and the amount of talent assembled from the classes
of 2016, 2017 and 2018 is beyond impressive. With stars all over the gym, 2016's
top spot.
roost
class of 2016 is loaded at the top. On Saturday, though, Jackson reinforced why we see him as the top player in the class.
Jackson made plays off the dribble, scored in traffic, hit some deep jumpers and
was outstanding as a facilitator and a defender. What can always be counted on
with Jackson is that he is going to compete and in a gym filled with alpha dog-type competitors, he is the most
alpha of the alphas.
Jackson told Rivals.com that he's still working with his mother to figure out
official visit dates and that he would most likely be setting up trips to
decision.
Nowell
is a throwback kind of kid.
While he is a top shelf athlete, the 6-foot-4 product of Seattle (Wash.)
Garfield has a game that is built upon playing strong defense and hitting mid-range jump shots. He did both of those things on Saturday and he also got out
and flourished in transition.
so far this year. The Huskies and Bears have offered and he thinks more are on
the way soon.
Johns
The No. 20-ranked player in the class of 2018, 6-foot-7 combo forward
plays for a very good college team.
In terms of fundamentals and natural feel for the game, Johns was one of
Saturday's standouts. He plays hard and he is a gifted passer.
Right now, Johns sees himself as a skilled four man and thinks he could
eventually play some at the three as well. It's a pretty fair self assessment.
in to see Johns this fall.
from USA Basketball

The most
player, Fox was pretty much unstoppable off the dribble and his ability to be
scorer or playmaker at 6-foot-4 is big-time. As good as he is on offense, Fox
might be even better on the defensive end.

Clearly,
2016, Tatum has always been highly-regarded. However, he looks to have taken his
game to a new level. Tatum has always been quite skilled and his feel for
scoring the ball is refined. Now he's added a new level of athleticism and
become more dynamic off of the dribble.

Five-star big
weekend he would decide on whether or not to take his planned official to
him.

Another of the
Fultz scored at all three levels and did so with lots of confidence. Watching
him in skill work, it's clear he spends a lot of time honing his craft.

The current
North Florida, College of Charleston, High Point and VCU. He will certainly earn
many more. A thin 6-foot-9 power forward, Hamilton shows promise on the glass,
as a transition athlete and he can also make some short to medium range shots.

The top player
supposed to be. The 6-foot-10 power forward has a great basketball IQ, polished
footwork, touch and he is a dangerous shot blocker. Carter said that he'll visit
Duke soon for their Countdown to Craziness event and that he may go to
Kentucky's Big Blue Madness.

A local
major wing. He has a relentless motor, is active on both ends and makes a lot of

Paired for much
he wanted to go off the dribble. He doesn't hesitate to attack and is a scoring

year. The four-star point guard was solid in every aspect of the game on
Saturday and made great decisions with the ball.

Another Duke
scoring floor general. He can also play at the two, but he's at his best with
the ball in his hands. Jackson has an extra gear he can get to.

Last but not
figured out on Saturday. Play tough, play defense, make good decisions on
offense and stand out. He had a strong all-around performance.