USA Basketball: Five-star Josh Christopher remains a national priority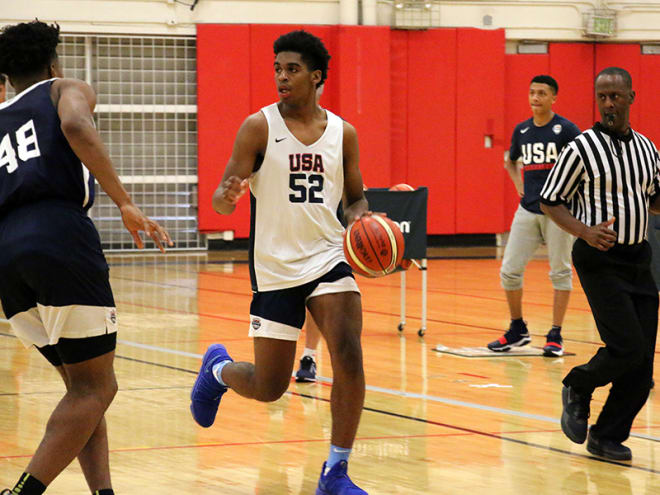 BLOOMINGTON, Minn. – One of the very best scorers in high school ball, Josh Christopher is nearing his senior summer full of optimism. Beforehand, the five-star junior made for a strong showing at the USA Basketball Next Generation Camp and afterwards, discussed what such a platform means to him, his ongoing recruitment and the bevy of schools that have placed a priority upon him.
"At USA (Basketball), everybody does a little bit of everything," he said. "You have guys that put the ball through the basket and at USA, they have the motto to be versatile, so I just try to take that to heart and to get everybody involved."
Arizona, Arizona State, Florida State, Missouri, Oregon and UCLA are just a few that are actively recruiting Christopher.
IN HIS OWN WORDS
Arizona: "They just always tell me that this is the school for you and they send me the accolades of the program and what they have done for their players whenever a guy is in an all-star game or does this or that in the NBA They send me some stuff on that so I have the mindset of what Arizona can do for me."
Arizona State: "I like ASU a whole lot. I think it happens knowing that my brother is there, too, any schools that brother is at, I wouldn't mind being a part of but at the end of the day, it is about Caleb's future and my future. It would be great to play with Caleb again but I just have to see what happens."
Florida State: "My brother Patrick (Christopher) is really good with Coach Dennis Gates, so there is a little relationship right there and Florida State gets guys into the league and I am pretty sure they will get some guys there this year, so any school that is getting guys to the league is a school that I will take interest in. Florida State is definitely on my radar."
Missouri: "That is family. The coaching staff treats me really well and during my visit, in Columbia, there was signs and posters at the frat houses saying that they want me, so the love is definitely really there. Cuonzo (Martin) is a really great coach so we will see what happens."
Oregon: "Knowing Bol (Bol) was there and I just talked to Lou King a little bit. They are recruiting pretty heavy, so I will see if Oregon makes some kind of move this summer."
UCLA: "With Shareef (O'Neal) being there, we hang out pretty much every weekend and we talk about it and college. That means something whenever you put on the blue and yellow over there, for sure. Russell Westbrook, they get guys to the league and Kris Wilkes is going to go this year."
WHAT'S NEXT & RIVALS' REACTION
Christopher has remained patient with the process, though it can oftentimes be stressful.

"It has been real fun. With Instagram and my social media, it has expanded pretty well as far as colleges and fan bases reaching out, but it has been a lot of fun," he said. "It can be a little overwhelming sometimes with the commitment of my brother going to ASU, which has really stirred up a whole lot of talk but I have one more summer coming up and we will see what happens."
Hitting the Nike EYBL circuit this spring with the Vegas Elite program, Christopher is hoping to take a few visits whenever the time is right.

"Visits right now, I don't have anything planned right now but I will probably schedule some pretty soon," he said. "I for sure want to check out the Oregon campus, Florida State would be a good visit, too. Those are the two on my mind right now."
A commitment could come earlier compared to others, or it could be pushed back to next spring. "I am going to wait until I feel like it is the right time for me, honestly," Christopher said. "That could be tomorrow, who knows, but I always talk about it, I don't know if I want to do it at the Nike Peach Jam, or before my school year, or be the last person to even commit to a school, I don't know. Only time will tell."
Christopher's recruitment is one of the more intriguing ones that is not short on storylines. He is one of the best along the west coast and his brother, Caleb Christopher, will be on the Arizona State roster next season, while his cousin is the strength coach at Missouri. Could Cal's Mark Fox work his way into the picture as he is currently employed at the school where Christopher's oldest brother, Patrick Christopher, once played at? Regardless, expect for all of those involved to remain heavily entrenched with a timeline towards a commitment far from clear.