USA Basketball: Five-star Duval lights up Saturday evening session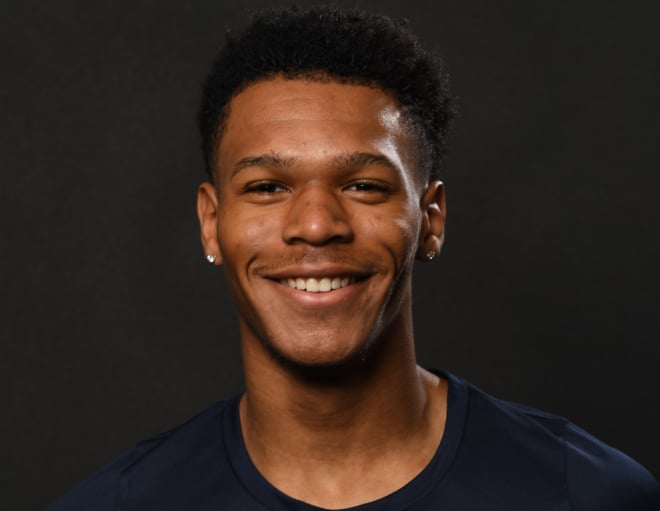 COLORADO SPRINGS -- The pace at the USA Basketball Junior National Minicamp was breakneck during Saturday night's evening session. That played right into the hands of 2017's top ranked point guard Trevon Duval.

DUVAL HAS BIG EVENING SESSION
While he played plenty well during the Saturday morning session at USA Basketball, 2017's top ranked point guard Trevon Duval turned the dial up a few notches on Saturday night.
The 6-foot-2 floor general from Bradenton (Fla.) IMG who ranks No. 3 overall in the 2017 Rivals150 was at his open floor best and making one play after another in the lane. Whether he was scoring on acrobatic finishes at the rim or setting up his bigs for easy scores, Duval was in total control.
Nobody has ever questioned Duval's athleticism and ability to create off the dribble. But there have been questions about his decision making and his jumper is the biggest area for him to improve. All day Saturday he made good choices and on Saturday night he looked much more confident with his jumper hitting a few nice pullups.
Duval recently said that he is wide open to programs that want to recruit him and has had recent contact from Duke and Baylor and took a recent unofficial visit to Kansas.

VANDERBILT SETTING VISITS WILL HAVE WINTER DECISION
Due to a broken foot, five-star Jarred Vanderbilt missed the July evaluation periods and is just getting back to full health.

The Houston (Texas) Victory Prep product who ranks No. 21 overall in the class of 2017 looked pretty good in the Saturday's first session.
There was no rust as he played a combo forward role. He brought the ball up the floor at times, defended wings and four men depending on matchups and he's also noticeably stronger. During drills, Vanderbilt looked like he has really been focusing on the mechanics with his jump shot.
Since he's recovering from injury, the medical staff decided to shut him down for the evening session but Vanderbilt said that his foot felt fine.

Vanderbilt has nine schools left and has seen TCU and Houston unofficially this fall. He said he begins the official visit process next week with a trip to North Carolina. After tripping to Chapel Hill he's got dates set with Texas and Arizona in late October and early November and he's finalizing a visit to Kentucky His final official visit will most likely be either Kansas or Oregon.

MORE SATURDAY NIGHT NOTES AND STANDOUTS
One of the underclassmen who wasn't intimidated by the stronger 2017 guys is 2019's No. 14 ranked player Christian Brown. The 6-foot-6 wing backed up his five-star status in a big way. He hit some deep jumpers, defended with intensity and was a beast finishing around the hoop. He's one of those guys who brings up the intensity level of any game.

Also a five-star in the class of 2019, forward Matthew Hurt looked at home against the older players. He can really shoot the ball from between 12 and 17 feet and is just dangerous enough from three and finishing with dunks at the rim to really keep defenders on their heels. He's another younger player who wasn't afraid to compete with the seniors.

He was relatively quiet in the mornings session, but 2017's No. 5 player Wendell Carter got going in the night session. He overpowered guys, he hit some nice looking 12 footers and he was effective on the glass. The big man teamed with Michael Porter and Trevon Duval to form the most fearsome trio we saw on any team. It continues to look like a race between Duke and Harvard to land him.

Making a strong first impression was 6-foot-3 point guard R.J. Hampton. A Texan in the class of 2020, Hampton really impressed with his overall skill level and feel for the game. He made high level passes, showed he can shoot and looks like a very nice prospect.

Three more class of 2019 five-stars who backed up their status were wings Scottie Lewis, Juwan Gary and Bryan Antoine. Lewis is an electric athlete and maybe the best perimeter defender in camp. What really sets him apart is his transition passing to others and finishing at the rim. A physically tough and powerful wing, Gary looked right at home playing through contact. He also hit some jumpers late and showed the ability to create his own offense off the dribble. Lewis' high school teammate, Antoine is arguably the most skilled 2019 guard in camp. He can shoot from deep but really impresses with his changes of speeds, overall pace and sneaky athleticism.

Houston sophomore Quinn Slazinski has had an impressive group of coaches in to see him this fall. He said that head coaches from Michigan State, Stanford, Texas, Texas A&M, TCU and Baylor have been through to see him and that Georgia Tech has been very active. Slazinksi said that all but the Spartans have offered. Oklahoma State, Houston and Rice are also involved.

Finally, five-star Trae Young had his competitive juices flowing. He was pretty heavy in the ear of his summer teammate and good friend Michael Porter after draining a couple of deep threes on him and he was generally relaxed. Young is a scoring point guard but he didn't force any shots and really looked confident.