USA Basketball finds talent in Chicago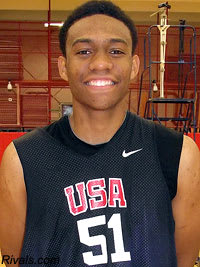 COLORADO SPRINGS, Colo. -- Last summer as a 16-and-under team, USA Basketball dominated the competition to qualify for 2012's world championships at the 17-and-under level. The first step towards winning gold in Lithuania next July is a minicamp that tipped off Saturday at the U.S. Olympic training center in Colorado Springs.
With 27 of the United States best and brightest players from the classes of 2013 and 2014 on hand, it didn't take long to notice that USA Basketball is leaning hard on the city of Chicago as four representatives of the Windy City -- 2013's
Jabari Parker
and
Kendrick Nunn
and 2014's
Jahlil Okafor
and
Paul White
-- are amongst those in attendance.
Don't think for a second that the guys from Chicago didn't notice their hometown was so heavily represented.
"It feels good, being from Chicago and having all of these guys out here," said Nunn. "I think we look out for each other and the rest of the team but it's nice to show the type of talent we have compared to the rest of the USA."
An explosive 6-foot-3 combo guard, Nunn ranks No. 18 in the class of 2013 and brings an element of toughness to the floor. Actually, as 2014's No. 21 player White noted, Chicago basketball is all about toughness and they want to be sure that they do their hometown proud.
"In Chicago we have a reputation for our basketball and how hard we play," said White. "When we come out to an event like this we make sure that nobody tries to disrespect Chicago and we make sure we put on as hard as we can for Chicago."
"You definitely can't come out here and play you're A-minus game," said the four-star sophomore. "You have to come out here on top of your game and ready to compete"
A five-star prospect who ranks fourth nationally in the class of 2014, Okafor has seen the likes of
Duke
,
Georgetown
, Arizona,
Syracuse
,
Notre Dame
, Illinois, DePaul, Ohio State, Wisconsin, and
Arkansas
among others come through to watch him work out at Whitney Young -- where he teams with White -- this fall. He's feeling the civic pride as well.
"There's a little a pride but at the end of the day it's about team USA," said the 6-foot-9 center. "It does show that the Midwest has plenty of players, especially Chicago."
Maybe the most notorious of the bunch, Parker is a silky-smooth 6-foot-8 wing from Simeon High School who has drawn comparisons to Paul Pierce and Grant Hill. Last summer he played a starring role for Team USA .
Ranked second overall in the class of 2013, Parker is being pursued by all the previously mentioned schools as well as others like
Kansas
,
Washington
,
Texas A&M
,
Cincinnati
,
Villanova
,
North Carolina
,
Louisville
and more. He can see a big difference between minicamp and a summer All-American camp where there isn't anything but reputation on the line.
"Here you are trying to make a team and get to represent your country," said the five-star junior. "At an All-American camp you don't have to worry about that so that's a lot different when you are talking about how guys compete."
But, just like the rest of his boys from the city of broad shoulders, Parker is very clear that he wants to make his hometown proud.
"We are the home guys and we have to represent the city of Chicago as much as possible," said Parker. "We have to work hard to show what the outcome of that can be."
As he looks ahead to a second day of competition on Sunday, Nunn -- who is being recruited by the likes of
Pittsburgh
, Syracuse, Kansas,
Florida State
,
Oklahoma State
, Illinois, Ohio State and DePaul since his recent de-commitment from Texas A&M -- can't help but be excited and want to turn things up a notch.
"To know that I'm one of the top players in the country is good," said Nunn. "I feel like I want to compete. The first time I came here I was kind of nervous and then I started to blow up a bit and now I'm more comfortable out here."
Looking even further down the road, Okafor is excited to compete for Gold again in 2012 and can't help but see how his game has benefitted from his participation in USA Basketball.
"It's amazing, you have so much on you," finished Okafor. "With high school and AAU it's important, but here you have the whole country depending on you and riding on your back. It's changed my whole game and my whole confidence."
[rl]