USA Basketball 16U team trials: Knox delivers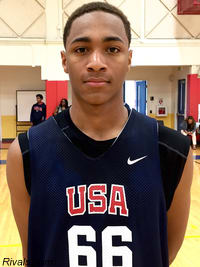 COLORADO SPRINGS -- Friday morning, many of the top players from the classes of 2017 and 2018 were back at it on the floor of the US Olympic Training Facility for the 16U team trials. 2017 forward Kevin Knox emerged during the spring and continues to trend up in Colorado Springs while 2018 big man Carte'Are Gordon has showed that he belongs.
Knox fitting right in
Headed into the spring, Tampa (Fla.) Catholic forward
Kevin Knox
was a relatively unknown player in the class of 2017. Playing in Nike's Elite Youth Basketball League with Each 1 Teach 1 he began to carve out an identity as an active combo forward. Through two sessions of the 16U team trials, Knox has only built upon the body of work he compiled over the past few months.
A quarterback on the football field, Knox -- a 6-foot-7 195 pounder -- lacks nothing when it comes to toughness. He has been crashing the glass on both ends of the floor, playing good defense and showing explosion when attacking the rim. He can make medium to deep jumpers and has a very nicely balanced game.
Currently unranked in the class of 2017, Knox is a lock to enter the rankings when they get updated in late June and he will do so as a four-star prospect. In the past few months he's picked up offers from
Miami
,
Xavier
,
Florida State
,
USF
and
Memphis
.
This weekend, rankings and offers are the last things on Knox's mind; all he's worried about is making the team.
"I think I've done well," Knox told Rivals.com. "There's a lot of good coaching, a lot of good drills and a lot of intensity. You have to come here with your A game and you can't slack and just do nothing. You have to take care of your body and the coaches are expecting a lot out of you. I think I have the ability to do it."
Gordon tough in the post
From watching the first two rounds of tryouts, it has become clear that those players who were able to attend USA Basketball's mini camp back in October have a bit of an advantage when it comes to knowing what is expected of them and how to pace themselves. 2018 power forward
Carte'Are Gordon
is certainly evidence of that.
A 6-foot-7 245 pound power broker from St. Louis (Mo.) Vianney, Gordon has been tremendous so far. He has showed off good footwork around the rim, exploded to the hoop and been a beast on the glass. For Gordon, it's all about doing what he knows he can do.
"I'm just trying to play my hardest and do what I usually do," said Gordon. "I'm not trying to come out here and do something I'm not able to do.
"I want to make the team and I'm doing what it takes to get there. Possibly getting cut puts more emphasis on things and makes you want to go harder and show what you can do."







Click
Here
to view this Link.