USA 16U: Who we would select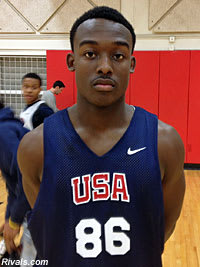 Big men stand out at USA minicamp
COLORADO SPRINGS, Colo. -- It won't be until next June that
USA Basketball picks the final 12 members of their next 16 and under national
team. But, after spending the weekend in Colorado Springs watching the fall
mini-camp, we have our own ideas about who we would select based off of the
minicamp and we'd definitely be building around big men like
Here's a look at how Rivals.com would pick the 12 man roster (along with two
alternates) at this point. Keep in mind that there were just over 10 players at
the mini-camp who won't be eligible (birthdays earlier than 1997) to make the
team and that there are other prospects could be added to next June's tryout.
Also, because these guys are so young, their games will change a lot between now
and June.
- There isn't anything flashy about the way Crawford plays, but he sure gets the
job done. He's a team player all the way, understands how to run a team and will
involve his scorers. On top of that he's a pretty good defender.
- Pure and simple, Davis is a natural scorer. He's not a freaky athlete
(although he's certainly a very good athlete) but instead has exceptional body
control that allows him to find driving lanes most wouldn't see. He's a streak
shooter from deep and plays with a lot of confidence.
- Every great team needs a guy in the middle who can erase mistakes at the rim.
Giddens is that guy. The sophomore is a long armed shot blocker who can really
sprint the floor. He controls his area with physicality on both ends of the
floor and should develop just fine on the offensive end.
Christian (2016) - It wouldn't be a surprise if this guy eventually
ended up leading the USA team in scoring and rebounding. The freshman from North
Carolina is a special talent and already a physical freak of nature who won't
turn 15 until late April. He scores, he rebounds, he runs the floor and he's a
potential star.
- Jackson is all about getting to the hole and he's quite proficient at it. Not
only does he get there, he gets there quickly because of a great first step and
he's an explosive finisher at the rim. He's a terrific transition player and has
all the makings of a lock down wing defender.
(2016) - Talk about a high-level wing prospect, King looks to have the
entire package. He's a good athlete, he can create off the dribble, he has a
great frame and he's already a standout pull-up jump shooter. He's a pretty good
passer and rebounds as well.
- With his physical build, mental toughness and leadership skills, it's hard not
who is best with the ball in his hands. He's not quite the passer/handler that
Smart was just yet, but he's a more explosive athlete.
- Probably the best scorer at the mini-camp, Newman can flat fill it up from the
perimeter. The release on his jumper is clean and crisp, he creates off the
dribble and he's a strong finisher. Given his ability to score, Newman is
surprisingly unselfish.
- Even though he's only a sophomore, Rabb is already quite well known on the
national circuit. He's a springy athlete around the rim who gobbles up rebounds
and sprints the floor for dunks. He can face up defenders with regularity
between 12 and 15 feet and is going to be one of a very select few of early
five-star prospects in 2015.
(2015) - Like Rabb, Stone is a safe bet for early five-star status. But
unlike Rabb (or Giddens and Giles), Stone isn't a high flyer and is relatively
average athletically. But, at 250 pounds he's big, strong and combines that size
with great hands, good feet and very soft touch. Stylistically, he compares to a
young Kevin Love.
- This pick is a futures pick. A 6-foot-5 perimeter play who may eventually play
anywhere from point to small forward, Tatum is a very interesting prospect. He
reminds some of a young Shaun Livingston with his ball handling and passing,
will grow into his body and has a good overall feel for the game.
Canyon (2016) - There wasn't anybody any better at the point guard spot
during the mini-camp. The six-footer has very good quickness, is a pass first
guy and is very aggressive attacking the paint off the dribble. Thornton is also
very good on the defensive side of the ball.
Alternates
(2016) - He's got a baby face and when he walks onto the floor he
doesn't catch your eye as a guy who looks like a player. Once he gets moving you
realize quickly that he's a player. Monk is a big time athlete who can shoot it
a bit from deep. If he grows a little and adds some strength between now and
June, he will make a strong push for a roster spot.
- There weren't a lot of shooters in camp, but Ellenson may have been one of (if
not the) best catch and shoot guys in Colorado Springs. The big man is quite
dangerous in pick and pop situations and crafty around the bucket. If the USA
coaches decide that they want to go big and need another shooter, he'll be even
more in the mix than he already is.

[rl]