USA 16U: Jones stock is rising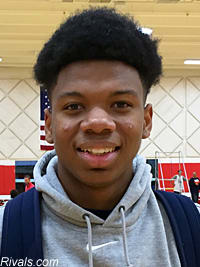 COLORADO SPRINGS, Colo. --
Friday night at the USA Basketball 16U trials,
Tre Jones
showed anybody who was watching that he belonged with
the high-level talent in attendance. The class of 2018 point guard was one of many Friday night standouts.
One, two, Tre
It's going to happen so it's best to go ahead and get it out of the way. Apple Valley (Minn.) High point guard
Tre Jones
is always going to draw comparisons to his older brothers
Tyus
and Jadee. He's fine with that, but Jones is quickly carving out his own reputation thanks to another good night.
A good ball handler who can set up his teammates, what Jones really does well is attack the paint off of the dribble. He has some explosion at the rim and is a pretty good on the ball defender. Through the first two days of camp Jones has raised his profile as much as any player in attendance.
As of now, Jones only lists an offer from
Texas Tech
. He also has interest from
Marquette
and
Minnesota
and it is a safe bet that his list will be much longer after college coaches get a chance to see him on the Howard Pulley 16U team during the July evaluation period.


a 7-foot-2 center, is a unique prospect. He lacks strength and he prefers to play facing the hoop, but he can shoot and has a high skill level. During one stretch, Vanover posted strong to score while being fouled, hit a three, altered a shot and scored on an offensive rebound. He can be pushed around because of his lack of strength, but Vanover has fight in him and a good motor.

It isn't always pretty with 2018





Based on production,